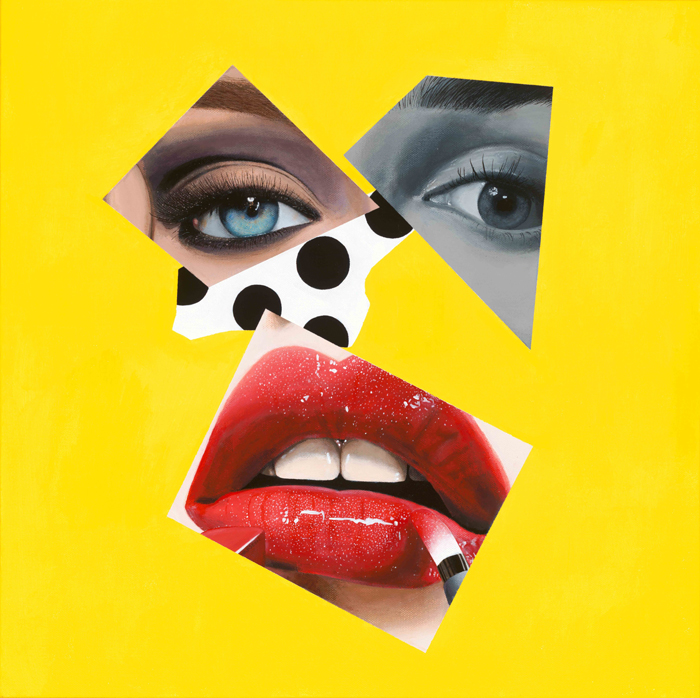 Spotlight on Collage Artist Trading Card Artist Vakseen
Los Angeles, California artist Vakseen's work evolves around women, their natural allure and the insecurities or confidence created by Pop culture. The work is a reflection of society's idolization of beauty and "perfect" images of women. The artist uses high-end fashion magazines to clip and surgically collage images together. He then recreates the work by painting it on canvas. The focus is Surrealism, consistently fused with elements of Hyperrealism and Cubism. While music has played the driving force in his business career, Otha "Vakseen" Davis III's passion for the arts has served as his key to sanity in the fast-paced entertainment industry. His paintings have been shown in over 35 group and solo shows in the Los Angeles area and have been featured in over 40 art and literary magazines.
Who is Vakseen?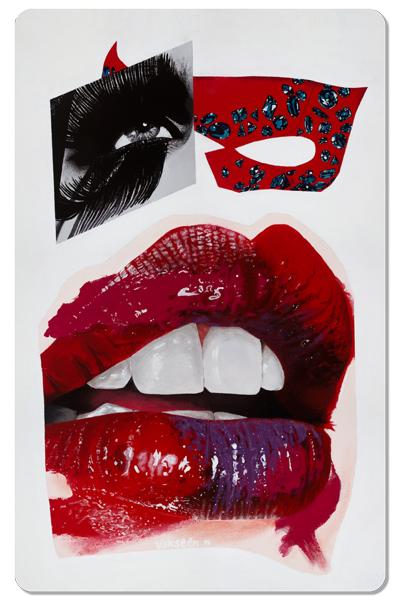 I'm a 36 year old, self-taught Floridian artist currently living in Los Angeles. I'm blessed to be working in the music business for over ten years as an executive, manager and producer. I've been creating art from birth, but I've been a professional artist for the past three years. Art is truly my passion and my life definitely evolves around it. When I'm not creating art or music, I love travel, creative food, concerts and simply enjoying life to the fullest. That's an essential dynamic to who I am as a creator. Life must be balanced!
Can you explain the idea behind Ribbon in Her Eyes?
Well, I've spent the last few years creating and mastering my own signature painting style that fuses elements of Photorealism, Cubism and fashion design. While my creations appear to be a collage, everything you see is actually hand-painted. My portraits deal with the theme of personal identity and evolve around society's idolization of beauty, the enhancements women endure to obtain this level of "perfection" and the impact this has on our society. That's the foundation of each painting you'll see from me. The word "infatuation" sums up this piece for me, but honestly, I think the "why" of a specific piece is an emotional experience for the actual viewer. That's the best part to me! Figuring out what the hell the artist was smoking lol!! The whole point of art is to absorb, appreciate and then let your imagination do the rest. If I tell you exactly what I intended, you're robbed of this experience.
How do you make this work?
I always say I attack my creative process the same way a cosmetic surgeon would. I use my own photoshoots, as well as high end fashion and beauty magazines to clip and surgically collage the perfect features together. This definitely brings my ideas to life. My concepts come together quickly, so I usually just go with the vibe and let whatever happen. I think there's a fine art to understanding when an idea is ready to become a full painting and I've learned to listen to my intuition. These concepts just happen lol. From this point I recreate everything by sketching, then painting these beautiful, insecure souls onto the canvas.
Why did you want to make this work?
My art is a visual dialogue about society's idolization of beauty and the surreal, superficial times we live in. I aim for my art to celebrate the acute imperfections and endless perfections that exist within every woman, most importantly, my work is meant to question the importance our society places on outer appearances.
What are you working on these days?
I'm at a blessed point where my work is really evolving, so I'm very excited. One of my paintings was just featured by Complex, Vibe and Pigeons & Planes, so I am very excited about that as well. Life is great! I'm just focused on new opportunities, growing my brand, elevating my concepts and quality and ultimately engaging new fans.
PURCHASE Collage Artist Trading Cards, Pack 5.
You can see more of Vakseen's art in the Kolaj Magazine Artist Directory, on his website and on Twitter and Instagram where he can be found under the name @Vakseen and on Facebook where he can be found under @VakseenLLC.