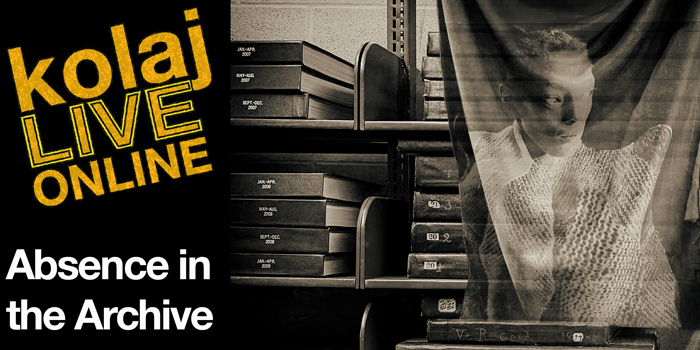 KOLAJ LIVE ONLINE
Artists in the Archives: Absence in the Archive
Wednesday, 9 November 2022 at 7PM EST (0000 UTC)
Presented in partnership with the Henry Sheldon Museum's Stewart-Swift Research Center
In Fall 2022 and Spring 2023, Kolaj Institute is presenting a series of Kolaj LIVE Online events in partnership with the Henry Sheldon Museum's Stewart-Swift Research Center as part of the exhibition, "Artists in the Archives". On the occasion of the 50th anniversary of the Stewart-Swift Research Center, the Henry Sheldon Museum of Vermont History invited an international network of collage artists to engage with historic material in the archive and to create a folio of collage prints that reflect on the idea of community in a 21st century world. Learn more about the project HERE.
No archive or collection is perfect and not all people of a community are well-represented in an archive. How do we make sense of these absences and how can we make archives more representative of the whole community? In this event, Carmen Lizardo and Ginger Sedlarova, collage artists from the Artists in the Archives Project who focused on what communities are absent in the archive, join Stewart-Swift Research Center Archivist Eva Garcelon-Hart for a conversation about absence in the archive and the role artists can play in making archives more representative of the whole community. The panel will also be joined by Jillian Hartke, archivist at the Albuquerque Museum's Photography Archive in New Mexico who will speak about that Museum's approach to absence, acquisition, representation. Presented in partnership with the Henry Sheldon Museum's Stewart-Swift Research Center.
The prints are on exhibition at the Museum until 7 January 2023 and the subject of a book published by Kolaj Institute. 
ABOUT THE SPEAKERS
Eva Garcelon-Hart
Eva Garcelon-Hart has overseen the Sheldon Museum's Stewart-Swift Research Center archival collections since 2011, where she has particular interest in bringing the Center's overlooked stories and visual collections to public attention. While there Eva curated several exhibits including: "Charity & Sylvia: A Weybridge Couple," "Conjuring the Dead: Spirit Art in the Age of Radical Reform," and "Elephant in the Archives: Silences, Erasure & Relevance." During 2021-2022 she and her colleagues organized a popular virtual talk series, the "Elephant in the Room: Exploring the Future of Museums." Eva holds an MA in the History of Art and an MLIS from the University of California at Berkeley.
Carmen Lizardo
Carmen Lizardo was born in the Dominican Republic and immigrated to the U.S. at 19. She holds a BFA in Photography and an MFA in Digital Art from Pratt Institute. For Lizardo, using multiple media has been an essential part of her work, particularly alternative photo processes, printmaking, drawing, and video work. Carmen Lizardo collects memories that weave personal stories, and political and cultural heritages to speak about immigration, race, memory, and identity. Lizardo's work always begins as an Autobiographical/Autoportrait experience and describes the human need to situate oneself in history, mainly, the one belonging to the American Cultural Collective.
Lizardo had received awards at Women Studio Workshop and New York Foundation for the Arts fellowship (nominated in both Painting and Photography). Lizardo was one of five American Artists of Latino descent awarded an international travel and production grant from the U.S. Department of Cultural Affairs. Lizardo served 15 years as a tenured faculty for SUNY New Paltz's Fine and Performing Arts program and now is solely dedicated to her studio practice. She lives and works in the Hudson Valley, New York.
Ginger Sedlarova
Ginger Sedlarova is an emerging collage artist living and working in Burnaby, British Columbia, Canada. Her practice grew from her love of making digital photo collages in a former career as a graphic artist on newspapers in Canada and magazines in Central Europe – only now she does this by hand, without an editor looking over her shoulder while she works. She loves to play and indulge in the unexpected. Her work has appeared in galleries and online shows in Canada, the U.S. and in Europe. In 2021, she received an award of merit from the Luxembourg Art Prize for her collage portfolio, and one of her works will be shown in the forthcoming book, Collage Your Life.
Jillian Hartke
Jillian Hartke is the Digital Archivist at the Albuquerque Museum. She studied History at the University of Missouri and completed a Master's of Library Science at the University of Missouri. She has worked as a librarian in academic, public, and non-profit institutions for ten years, and has worked for the Museum since 2018, managing the Photo Archives–a collection of 150,000 images. She has worked on several large-scale digitization projects, including the Library of Congress' National Digital Newspaper Project, the Missouri State Archives' Missouri Digital Heritage project, and the Albuquerque Museum's e-Museum project. She has presented at the joint Mountain-Plains Library Association and New Mexico Library Association on digitization and promoting online access to institutional collections.