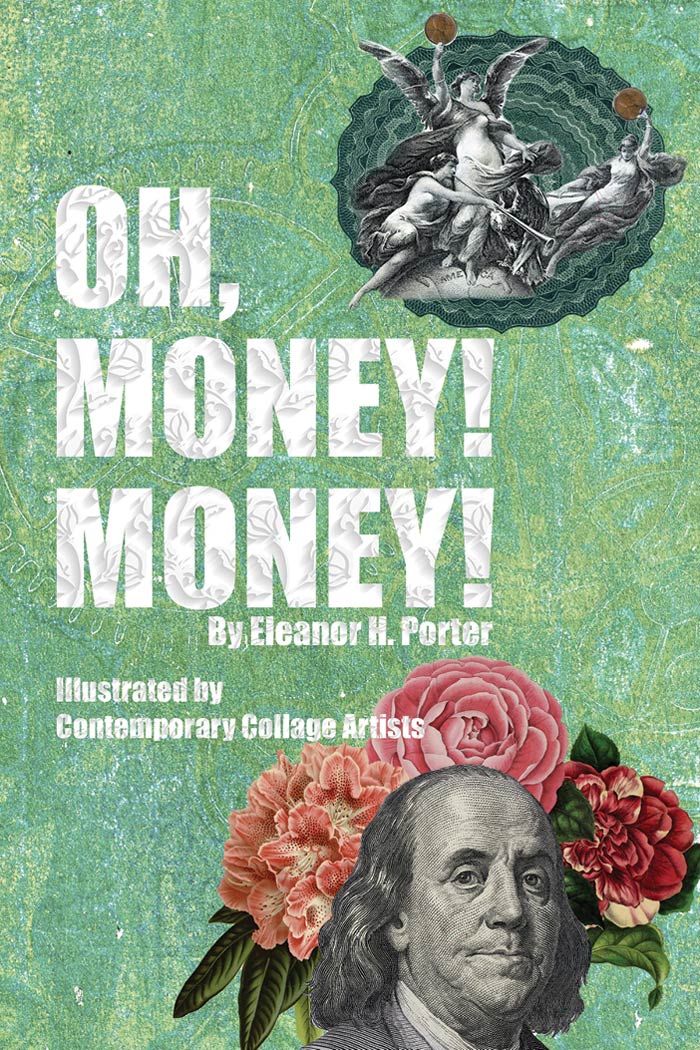 NEW BOOK
Oh, Money! Money! by Eleanor H. Porter, illustrated & interpreted by contemporary collage artists
Kolaj Institute is pleased to announce the publication of Oh, Money! Money! by Eleanor H. Porter and illustrated by a collective of collage artists. In Porter's 1918 novel, a Chicago multi-millionaire struggles to decide to whom he should leave his money. As an eccentric experiment, he schemes to give his three distant cousins one hundred thousand dollars each to see how they handle the windfall. The book is a time capsule of early 20th century American life with a strong focus on the lives of women and observations about material culture and communities before the rampant consumerism of the 1920s and the Great Depression. In telling this story, Porter gives us a look at the role of and attitudes about money that remain relevant today. The book raises important questions about the role of money in our lives: What good is money? Is money cruel? How should one handle money? How does money change us? To illustrate the book, Kolaj Institute organized a residency that brought together ten artists who worked collaboratively to make sixty-three collages that interpret Porter's novel for a 21st century audience.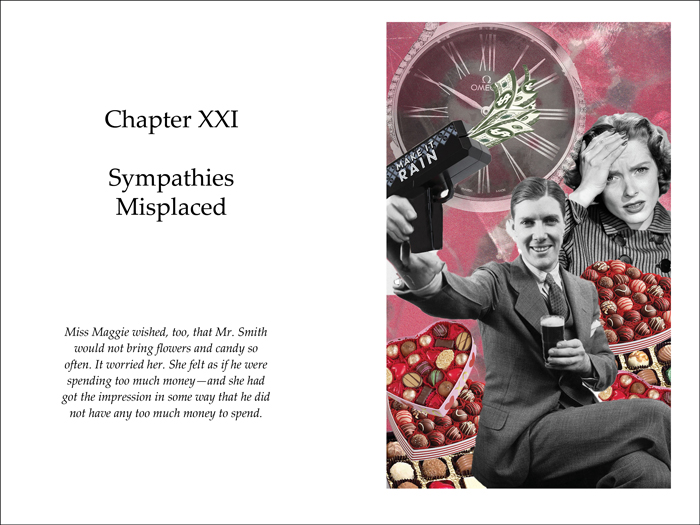 This edition of Oh, Money! Money! reflects collage's unique ability to bridge time and culture. "These artists dragged this book into the 21st century," said Ric Kasini Kadour in the book's foreword. "In doing that, they open space in which we can consider its antiquated qualities while preserving its valuable insights into the culture of money. We live at a time of radical income inequality that is the source of great cruelty. Money is an idea and that idea is cultural. To admit that is to open the door to the idea that money can change. It need not be a source of suffering and, as Porter's novel portends, can be a force for good."
Artist Illustrators
Alicia Halpin (Glen Carbon, Illinois, USA) | Amanda Lynch (Somerset, England, United Kingdom) | Elijah Guerra (Columbia, Missouri, USA) | G.E. Vogt (San Diego, California, USA) | Indira Govindan (Springfield, New Jersey, USA) | Jimena Murabito (Miami Beach, Florida, USA) | Kara Smith (Sheffield, Massachusetts, USA) | Mary A. Johnson (Denton, Texas, USA) | mateo desant (Davis, California, USA) | Susan Silva (Burke, Virginia, USA)
Oh, Money! Money! debuted at Kolaj LIVE Milwaukee on 30 July 2021. The book is available for purchase at Kasini House ARTSHOP. ORDER YOUR COPY TODAY!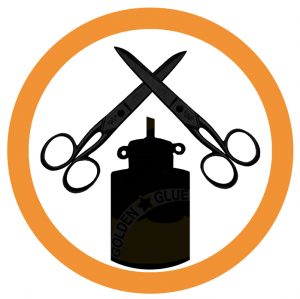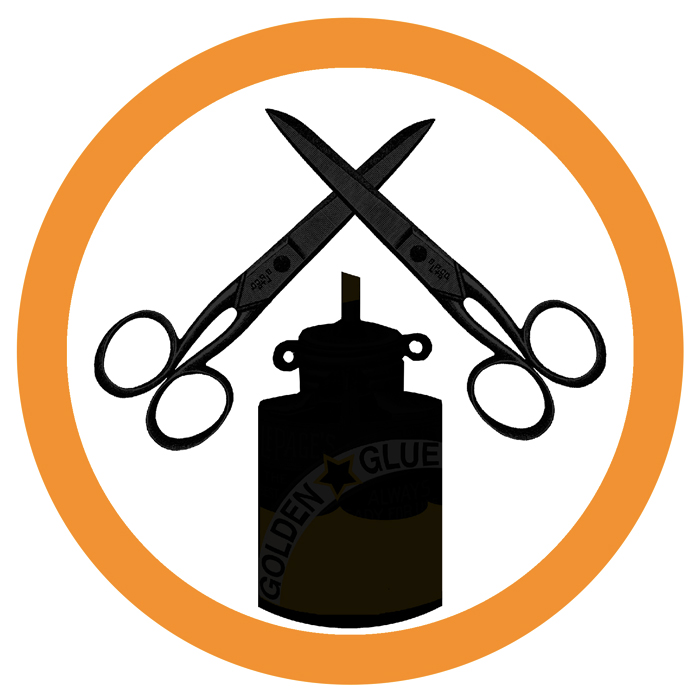 Oh, Money! Money! will be automatically sent to Silver Scissors & Golden Glue Members of Kolaj Institute. These special members of Kolaj Institute support residencies, fellowships, publications, and traveling programs while receiving a piece of the collage community to their mailbox each month. Sign up no later than August 31, 2021 to receive the book. LEARN MORE
---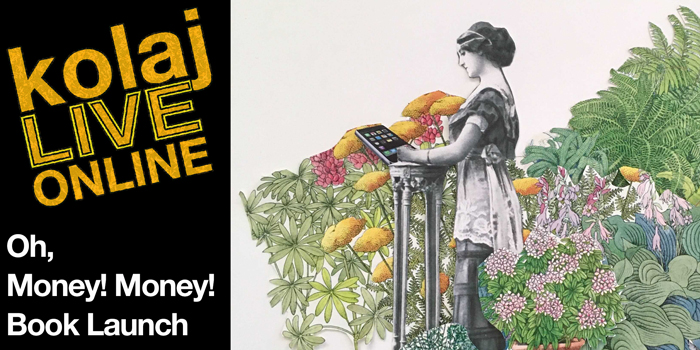 KOLAJ LIVE ONLINE
Oh, Money! Money! Book Launch
Sunday, August 22nd 2021, 2PM EDT (1800 UTC) on Zoom
Pre-registration required. GET TICKETS.
In this edition of Kolaj LIVE Online, several artists who took part in the Money Money Collage Residency will talk about their experiences collaboratively illustrating a hundred year old book within the span of a month.
"The Money Money Collage Residency was an exhilarating experience embracing virtual collaboration to make analog and digital collages to illustrate a story," writes Susan Silva. Mary Johnson writes "This residency gave me time and space, as well as direction, to breathe new life into my practice and relationship with collage. I learned quite a bit from both the lectures and my fellow resident artists: working with imagery in direct response to a text, and strengthening my digital skills. Additionally, our discussions as a group regarding our culture's response to money, late stage capitalism and commercialism gave me quite a bit of food for thought. The residency has actually inspired a few new projects in my own practice. "I think the residency was a unique reimagining of what artistic community means in the globalized, virtualized, pandemic present," writes Elijah Guerra. "On the surface, we collaborated to interpret and illustrate a novel, but beneath the surface, we reconfigured the layers of our individual and collective processes of creativity. We collaged each other into a cohesive and sometimes chaotic set of images, a self-portrait of the residency." mateo desant succinctly sums up the residency as "Zoom, money, collage, Slack, repeat."
At this lively virtual forum, artists will discuss some of the collages in the book and speak about their experience of collaborative illustration.
ABOUT THE ARTISTS
Amanda Lynch holds a BA in Fine Art and an MA in Arts from De Montfort University. Lynch works with mixed media, from sculptural forms to 2d works. Lynch's work explores social engagement and practice, within community-based projects. Lynch's work is held in international and national private collections, as well as CloseLTD gallery collection. She has exhibited throughout the United Kingdom, including the Somerset Arts Festival 2019 and abroad, exhibiting in Canada as part of the Gushul residency in Alberta (2016). Her work has appeared in group shows in The Netherlands, the United Kingdom and the United States. She was artist-in-residence at Gulshul in Blairmore, Alberta (2016) and at CEDA in the United Kingdom (2020, 2021). The artist splits her time between Somerset and London. www.amandalynchart.com and Instagram @Amanda_lynch_art .
Elijah Guerra is a genderqueer Latino artist who makes analog and digital collages. His work explores themes such as environmental crisis, the search for home, and humanity's place in the universe. His collages have appeared in WashU's The Spectacle magazine. He lives in Columbia, Missouri, and is a literature PhD student at University of Missouri. Instagram @deercrossingthesea.
G. E. Vogt's original training was as a performance art­ist and director. Her perfor­mance pieces evolved into living collages of the materi­als gathered to create viscer­al stories for the audience. Collage is now Ms Vogt's pri­mary medium, with a focus on political and social work. Her work has been shown in group exhibitions in California, Georgia, Michigan, Missouri, Ohio, and Washington. Her first solo show was at Fresh Paint Gallery in La Jolla, California in 2019. She was also a panelist on the "Women in Collage" panel at Kolaj Fest New Orleans 2019. Most recently, she has begun curating the SoPoCollage page on Instagram to showcase other artists who specialize in social and political collage. The artist lives and works in San Diego, California. Learn more at www.aworldinpieces.com and on Instagram @gretty_vee.
Mary A. Johnson holds an MFA from the State University of New York at Buffalo. She has shown her work globally including the New York Hall of Science, the Nekrasov Library in Moscow, and multiple art centers and museums in China. Her work has been in group exhibitions juried by Jerry Saltz and Chang Fang; and collected by the Shanghai Art Collections Museum. Additionally, her work has been included in multiple international publications, including Rebeka Elizegi's book Collage by Women: 50 Essential Contemporary Artists. Her studio practice emphasizes the unstable and unreliable. The artist lives and works in Denton, Texas. Learn more at www.maryajohnson.com and on Instagram @maryjohnson.studio.
mateo desant was born and raised in Mexico City under the name of Luis Avalos Trujillo. Luis is a PhD student in Economics at the University of California, Davis. He is the recipient of a Fulbright Scholarship. Prior to arriving in California, he worked in finance for the Mexican government and holds a degree with honors in Applied Mathematics from ITAM. mateo was born in 2003 as an exercise in art therapy. Over time, mateo has taken a more definite form. He is a self-taught poet, photographer and collagist. A handful of his poems have appeared in magazines in Mexico and Spain. Learn more at www.mateodesant.com.
Susan Silva is an artist and a proud public school art teacher currenlty residing in Northern Virginia. Her analogue collages are constructed as a response to current events and social issues. She has a prolific studio practice and shows her work frequently. In the past year Susan had a collage featured in Kolaj 32 about the international TELEPHONE web-based interactive project, a piece of mail art in the online exhibition "Pushing the Envelope: A Mail Art Gallery Show" by the Frank Juarez Gallery and SchoolArts Magazine as well as mail art in Jason Brown's "VOTE!! A Mail Art Project", which is now housed in Special Collections at the Vanderbilt University Library. Visit her blog at pseudonym-for-silva.blogspot.com or find her on social media @sillysusansilva.
Pre-registration required. GET TICKETS.