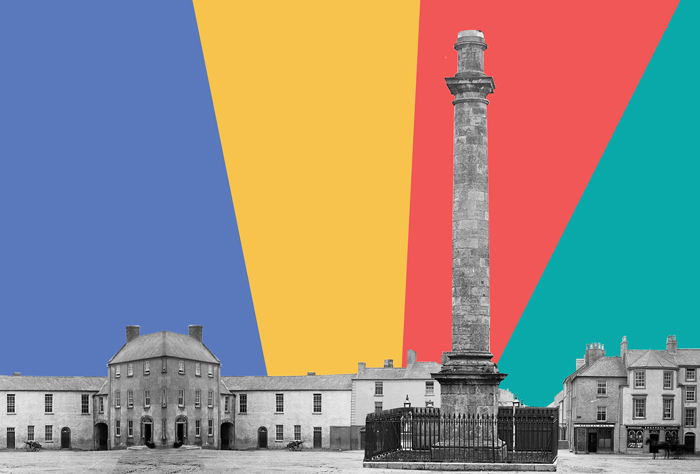 COLLAGE ON VIEW
Empty Columns Are a Place to Dream
at Birr Vintage Week & Arts Festival in Birr, County Offaly, Ireland
13-20 August 2021
An Exhibition of International Collage Artists in Birr, County Offaly, Ireland
An exhibition featuring eighteen international collage artists will take place during the 53rd Annual Birr Vintage Week & Arts Festival in Birr, County Offaly, Ireland, 13-20 August 2021. The collage in the exhibition, curated by Ric Kasini Kadour, repurposes an 18th century imperialist monument as a focal point for 21st century values. "Collage artists have unique skills that are particularly useful in our historical moment. They understand that something beautiful, something meaningful can come from chaos. They understand that destruction is easier than creation, which takes patience, precision, thoughtfulness, and intuition. They know how to bring things together; to work towards harmony," said Kadour.
To meet the demands of the COVID-19 pandemic, the exhibition is presented in an open air gallery on the streets of Birr.
The artists featured are: Inas Al-soqi (USA) | Simon Blake (USA) | Kevin Geronimo Brandtner (Austria) | Danielle Cole (Canada) | Caroline F. Conway (Ireland) | David Crunelle (Belgium) | Lynne Hoare (Ireland) | Marta Janik (Poland) | Ric Kasini Kadour (Canada/USA) | Anthony D Kelly (Ireland) | Christopher Kurts (USA) | Duduetsang Lamola (South Africa) | Rashad Ali Muhammad (USA) | Mark Murphy (United Kingdom) | Ashley Pryor (USA) | Elyana Shamselangeroodi (Iran) | Avi Yair (Israel) | Denise Zygadlo (United Kingdom).
Events related to the exhibition during the Festival include two in-person collage workshops on 17-18 August with Marta Janik, visiting Birr from Warsaw, Poland, and a live event about "Empty Columns Are a Place to Dream", hosted by Amanda Pedlow, Offaly Heritage Officer, and Brian Kennedy, Birr Historical Society, and including a Zoom tie-in featuring the curator and artists in the exhibition on 17 August at 7:30PM (Birr time).
In January 2022, Kolaj Institute published a book about the project. The book contains essays by Ric Kasini Kadour, a statement from Birr Vintage Week's art director Caroline Conway, and images of the collages and commentary. ORDER THE BOOK HERE.
The exhibition is an official part of National Heritage Week and is supported by The Arts Council of Ireland, Creative Ireland Programme, and Offaly County Council.
---
INFORMATION
Birr Vintage Week & Arts Festival
Birr, County Offaly, Ireland
+353 (0) 89 279 3242