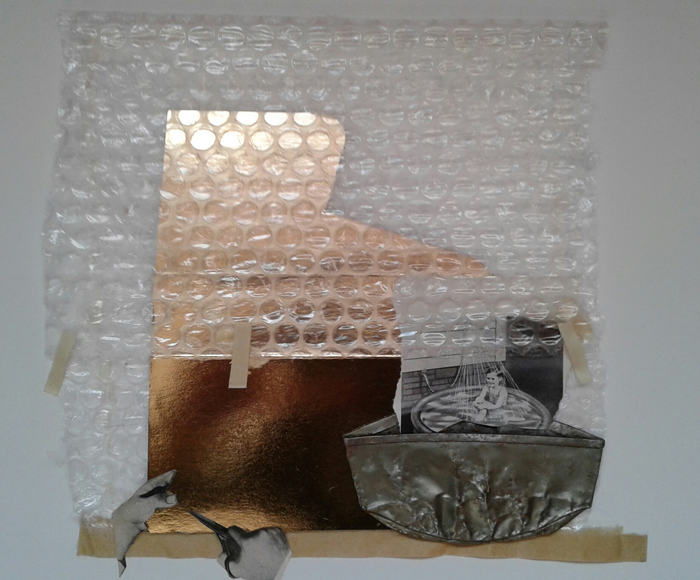 COLLAGE ON VIEW
2017 Nonesuch Art of Paper Awards Exhibition
at 141 Rue Ann in Montreal, Quebec, Canada
1-16 December 2017
Opening reception: Saturday, 2 December, 1-5PM
Closing reception and awards: Saturday, 16 December, 5-9PM
The exhibition of finalists for the Nonesuch Art of Paper Awards shows some of the many ways of creating art on or with paper.
In 2017, there were over 220 submissions from 16 countries, 131 of these from Canada with 51 from the Maritimes and 68 from Quebec. The exhibition includes more than 80 works from artists in Argentina, Australia, Belgium, Canada, Colombia, Germany, Israel, Italy, Japan, New Zealand, Poland, Switzerland, and the United States.
Six awards will be given: four selected by jury and two people's choice awards, the Wellington Church awards, selected by visitor voting during the Parrsboro (Nova Scotia) and Montreal exhibitions.
Among the collage artists featured are: Anouk Sugàr (Montreal), Rhonda Barrett (Dartmouth, Nova Scotia), Joe Castro (Prospect Park, Pennsylvania); and Julie Henneberg (Hasselt, Belgium).
A print catalogue of the show is available at the exhibition for $30 (+taxes) or by mail (send an email for more information).
---
INFORMATION
141 Rue Ann
Griffintown
Montreal, Quebec H3C 2J9
fun@hmsnonesuch.com or paperawards@gmail.com
Hours:
Wednesday-Thursday, 1-7PM
Friday, 1-9PM
Saturday-Sunday, 1-5PM
or by chance or by appointment
Image:
Chic-Shack IIB
(from the "Get Your Home in a Package" series)
by Anouk Sugàr
collage on paper
Courtesy of the artist