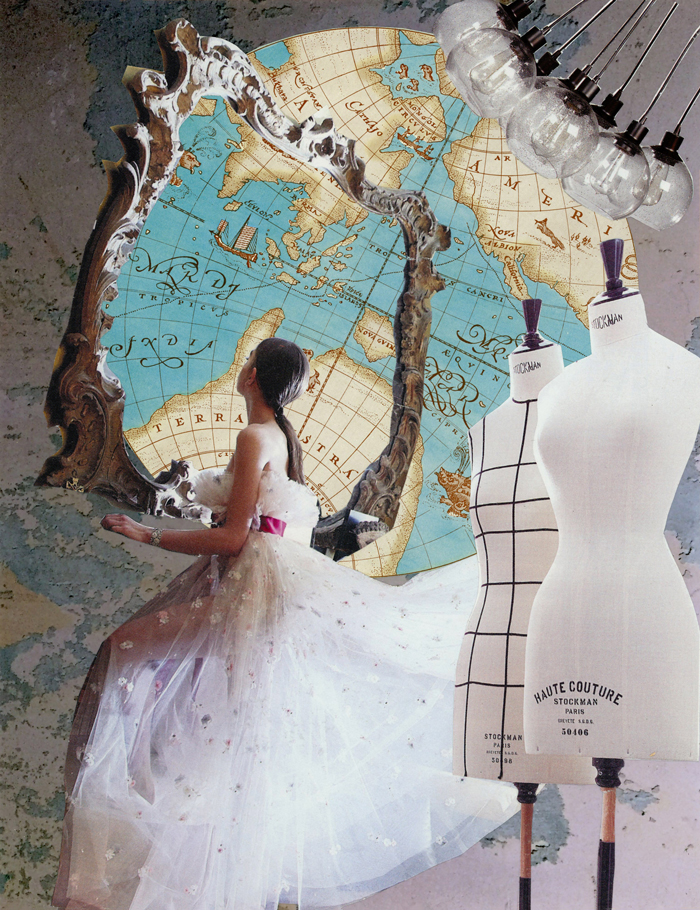 COLLAGE ON VIEW
All Over the Map: Susan Lerner
at the Minor Memorial Library in Roxbury, Connecticut, USA
2 February-16 March 2019
Artist reception: 2 February, 2-4PM
Susan Lerner says about "All Over the Map":
I have been intrigued by maps my entire life. Well before GPS, road maps were the only source of guidance for navigating direction. Opening a map in the car lead to the exploration of places unknown. Road trips with my family encompassed my interests of travel, photography and adventure. I loved the sense of knowing exactly where I was at any moment along with the ability to control and direct my experiences. But it was the sense of discovering new and exciting cultures that captivated my desire to traverse the world. And the use of maps guided me across the globe.
Using vintage maps in my new series "All Over the Map", I am able to re-envision the connection to my past through hand cut collage. These creations juxtapose vintage images to construct whimsical, surreal compositions. The use of the map's line, color and symmetry naturally inform the direction of the work. The places are grounded in reality but embody the attitude that anything is possible. My vision represents space, without regard to true context or scale. The practice is meaningful to me because it allows me to reconnect with my childhood through memory, reality and fantasy.
I am motivated by the hunt for the images in print and through the viewfinder. I scour book and tag sales for vintage materials such as books, atlases, maps, globes and vinyl record albums. The process of hand cutting then layering pieces, which often include my own photographs, into exaggerated form is both mediative and stimulating. Each piece is meticulously cut to create a one of a kind dreamlike composition which allows the viewer to decide what is true and what is imaginary.
(adapted from the artist's press materials)
---
INFORMATION
Minor Memorial Library
23 South Street
Roxbury, Connecticut 06783 USA
(860) 350-2181
Hours:
Monday, Noon-7PM
Wednesday & Friday, 10AM-5PM
Thursday, Noon-5PM
Saturday, 10AM-2PM
Image:
The World Awaits by Susan Lerner
Courtesy of the artist