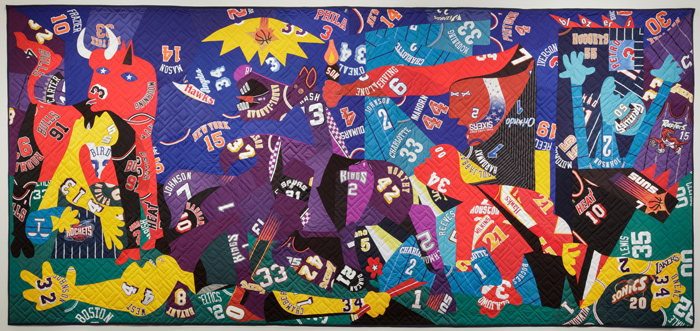 COLLAGE ON VIEW
Hank Willis Thomas: All Things Being Equal…
at Crystal Bridges Museum of American Art in Bentonville, Arkansas, USA
8 February-13 July 2020
"Hank Willis Thomas: All Things Being Equal…" is the first comprehensive mid-career survey of the conceptual artist's career, spanning 20 years of his work. The exhibition features 91 works by Thomas ranging from photography to sculpture, mixed media, paintings, video, and collaborative projects with other artists.
Combining familiar sports and advertising images with histories of art and politics, Thomas examines popular culture and how art can raise awareness in the ongoing struggle for social justice and civil rights. His artistic practice centers on analyzing and dissecting the images and concepts that comprise American culture, with particular attention to race as a construct, gender, and cultural identity. Through his work, Thomas asks his audience to become active participants in acknowledging, reconsidering, and dismantling old ways of thinking that obstruct opportunity, liberty, and inclusion for all people.
The exhibition includes works from his well-known "Branded" series, Reflections in Black by Corporate America and A Century of White Women from his multi-chapter "Unbranded" series, sculptures based on archival photographs taken during important twentieth-century political events, early photographic works, quilts constructed from commercial sports jerseys, video installations, collaborative art projects, and more.
Thomas created an original work specifically for the exhibition called 14,719 (2018), commissioned by the Portland Art Museum. The title references the number of stars that have been stitched into 16 28-foot-long blue banners. Each star represents a person shot and killed by someone else in the United States in 2018. While this installation is a memorial to those who have passed, "it also pays homage to the countless loved ones who carry perpetual grief and trauma as unacknowledged victims of gun violence in America," according to Thomas.
Thomas's work has been exhibited throughout the world and can be found in the collections of the Whitney Museum of American Art in New York, the High Museum of Art in Atlanta, and the Museum of Fine Arts in Houston, among others. He has been an instructor in the MFA program at Yale University and the Maryland Institute College of Art and is a 2018 Guggenheim Fellowship award winner. He is also a member of the Public Design Commission for the City of New York and was recently chosen to design Boston's Martin Luther King, Jr. and Coretta Scott King Memorial, with MASS Design Group.
Thomas holds a BFA from New York University and an MA/MFA from the California College of the Arts. He received honorary doctorates from the Maryland Institute College of Art, Baltimore, and the Institute for Doctoral Studies in the Visual Arts, Portland, Maine in 2017. His artwork Zero Hour (2012) is part of Crystal Bridges' permanent collection and his collaborative art installation project called In Search of the Truth (The Truth Booth) made a stop in downtown Bentonville in October 2016. Thomas currently lives and works in Brooklyn, New York.
(text adapted from the museum's press information)
---
INFORMATION
Crystal Bridges Museum of American Art
600 Museum Way
Bentonville, Arkansas 72712 USA
(479) 418.5700
Hours:
Wednesday-Friday, 10AM-9PM
Saturday-Monday, 10AM-6PM