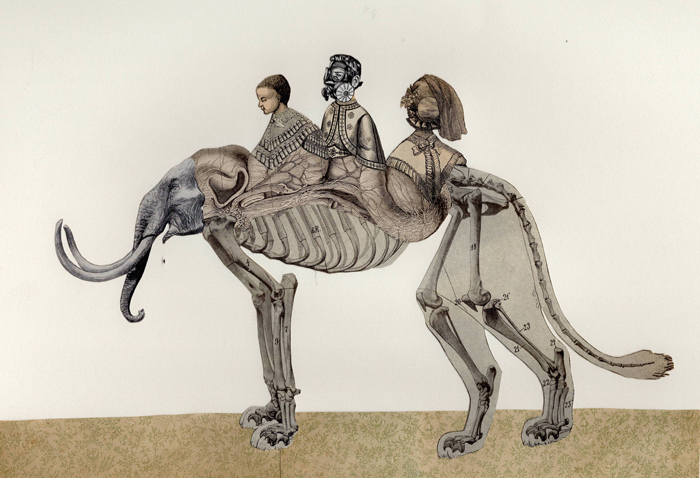 Alt-Left: Local Treasures
28 April-11 June 2017
Opening Reception: Saturday, 28 April, 6-8PM
"Alt-Left: Local Treasures" was curated by DeWitt Cheng and features work by Mark Bryan, John Hundt, Pancho Jimenez, Michael Kerbow, Ariel Parkinson, and Vanessa Woods.
The Bay Area is, of course, among the most politically and culturally liberal regions in the United States, its reputation for tolerance and progressive politics probably second to none. Regional artists have accordingly been among the most outspoken critics of mainstream, status quo politics. "Alt-Left: Local Treasures" is a Bay Area art response to the current national ascendancy of the Alt-Right. It features work by three painters, Mark Bryan, Michael Kerbow and Ariel Parkinson; two collagists, John Hundt and Vanessa Woods; and a sculptor, Francisco Jimenez, who comment on history, politics and psychology with both deep feeling and a mordant, absurdist humor.
DeWitt Cheng is an artist, collector, freelance art writer, educator, and curator based in San Francisco. His articles have appeared in such publications as Artweek, Art Ltd., Artillery, ArtNews, East Bay Express, East Bay Monthly, Sculpture, San Jose Metro, Stanford Daily, Artslant.com, ArtBusiness.com, and VisualArtSource.com.
(adapted from the gallery's press materials)
---
INFORMATION
Berkeley Art Center
1275 Walnut Street
Berkeley, California 94709 USA
(510) 644-6893
Hours:
Wednesday-Sunday, 11AM-5PM
Image:
Immigrants
by John Hundt
13″x18″
collage
2016
Courtesy of the artist