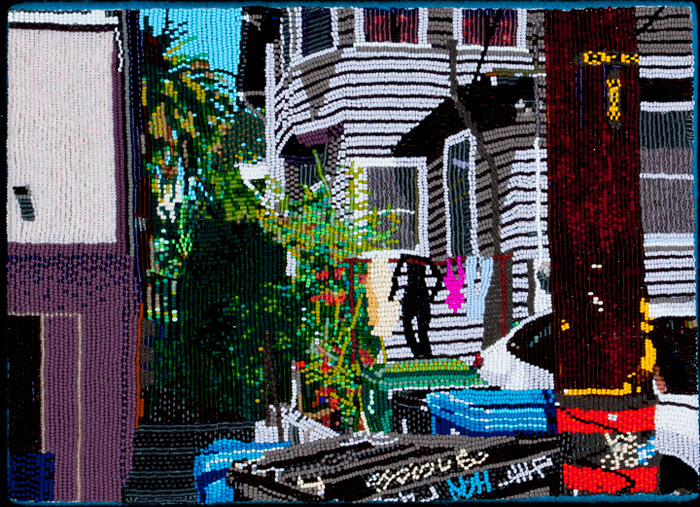 Corey Stein: Laundry at 10 degrees
22 April-3 June 2017
Artist reception: Saturday, 22 April, 6-8PM
Corey Stein's "Laundry at 10 degrees" features thirty-six glass beaded, hand sewn "paintings". In addition, a full scale, three-dimensional body costume representing both of the artist's parents greets visitors from the gallery windows, mimicking a storefront display. Stein, the daughter of a Jewish New Yorker and a Tlingit mother from Alaska, is drawn to images culled from personal observation and familial and community experience. All works in this show were produced between 2000 and 2017.
The primary catalyst that inspires the imagery in this exhibition comes from a photograph made by the artist, depicting a desolate landscape in Chevak, Alaska. The analog photograph was of such a poor resolution and optical quality, that the snowy Tundra ice could have been mistaken for the warm sands of Venice Beach, California. Beginning with this simple misfire, the artist would embark on a series of investigations of daily life and their dualities that would conflate and contrast these two coastal areas. The mundane, the small details, convey very human connections between them.
The intricate use of glass beads to generate imagery, or narrative sculpture, as Stein calls them, is adopted from the handicraft of geometric crests and floral imagery used in the Tlingit tradition, which is part of the artist's dual familial background. In Stein's observations of California and Alaska, however, the human-nature relationships are mediated by commercial products, architecture, food, and even detritus. The delicate and shimmering surfaces of the glass beads themselves, strike a resemblance to the glistening surfaces of snow that cover the Alaskan landscapes, and serve as a reflection of the blunt realities within both locales.
(adapted from the gallery's press materials)
---
INFORMATION
Couturier Gallery
166 North La Brea Avenue
Los Angeles, California 90036 USA
(323) 933-5557
Hours:
Tuesday-Saturday, 11AM-5PM
Image:
Venice Alley
by Corey Stein
seed beads sewn on felt
2010
Courtesy of the artist and Couturier Gallery, Los Angeles