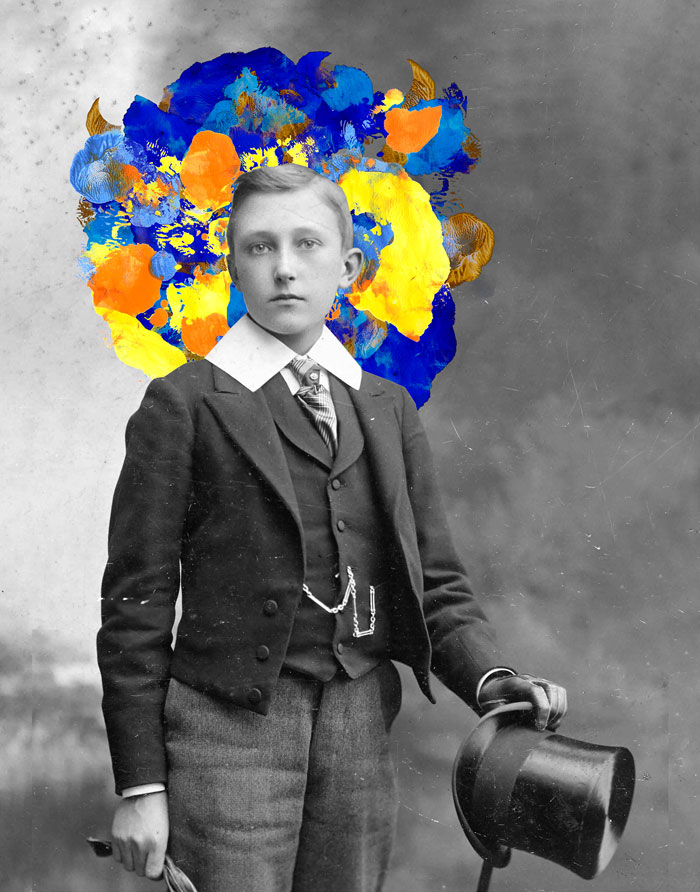 COLLAGE ON VIEW
Altered Spaces
at Spruce Peak Arts Center in Stowe, Vermont, USA
13 September 2018-7 January 2019
Reception: Saturday, 6 October, 5:30PM
"Altered Spaces", curated by Kelly Holt, is an exhibition of collage, photography, painting, and multimedia installation with work by Paul Gruhler, Dana Heffern, Ric Kasini Kadour, Lydia Kern, Erika Senft Miller, John M. Miller and Kathryn Lipke Vigesaa.
Artists in this exhibition are responding to the following curatorial statement:
perspectives shift
thoughts drift
distances lift
colors move – are they right here or off in the distance?
who is the viewer and who is being looked upon?
how can one alter space to break down barriers and biases?
put it up. take it down. what is your ultimate reality?
explore. experiment. respond.
Artists are working with moments of expanded consciousness–from altering the space of the found photograph, to revisiting one's home area code and finding that those spaces vibrate with memories and new hues of color in the camera. Photographic images are collaged to conjure innovative ideas of the surface of space, with homage to architectural detail, street photography and organic references and materials. Installation works with shapes of animal bones and color to create an altered atmosphere. Paintings vary from sublime journeys in color to working through space with whole-body physical gesture and movement.
Ric Kasini Kadour speaks of his series, "Portraits on the Arrival", "I imagine the men portrayed here on the verge of a new way of thinking and, to commemorate the moment, have their picture taken. The swirl of color conveys the ecstatic joy that comes with new ideas and fresh thinking. This is not typically a moment we commemorate in our culture. Perhaps it should be." John M. Miller's process in his "Dialogue with Resonance" series is a "…juxtaposition and diversity of single photographic compositions into more complex arrays of ideas" inspired by street photography during residencies in Rome, Italy.
(text adapted from the venue's press materials)
---
INFORMATION
Spruce Peak Center for the Performing Arts
122 Hourglass Drive
Stowe, Vermont 05672 USA
(802) 760-4634
Hours:
Thursday-Saturday, Noon-6PM
and prior to performances and events
Image: 
I Have Accomplished Much, But I Have Much to Do
by Ric Kasini Kadour
30″x24″
collage, archival print
2018
Courtesy of the artist