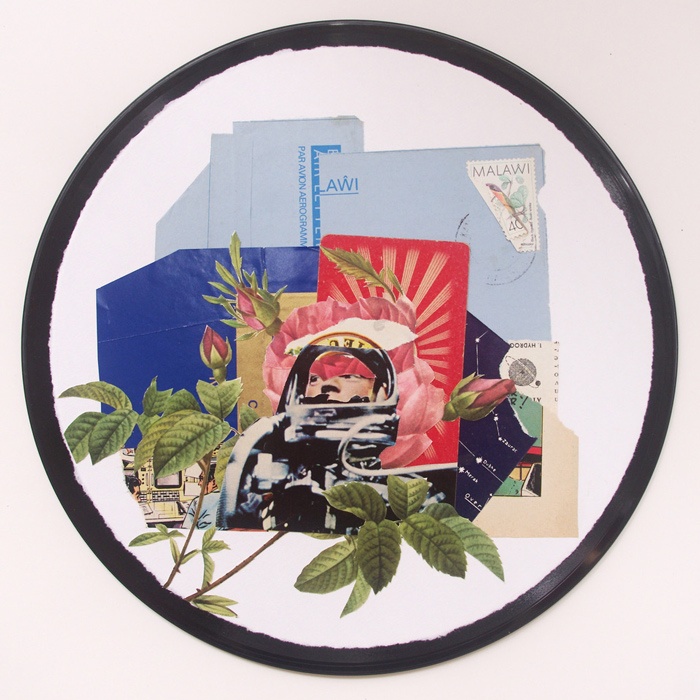 COLLAGE ON VIEW
Analog: Exhibition of Contemporary Collage
at Tarpey Gallery in Castle Donnington, Derby, United Kingdom
8 August-13 September 2020
"Analog – An Exhibition of Contemporary Collage" features work by six UK-based collage artists. Mark Watkins, Rhed Fawell, Mark Murphy, Phil Carney, Keith Bloody Mary and Clare Fisher's work, whilst diverse in subject matters, materials and concepts, each has its roots in the principles of analog collage.
From Mark Watkins' 7-12″ vinyl assemblages which explore the minutiae of human existence inspired by the absurd, disturbing, humorous or beautiful worlds in which we dream to the light hearted surreal and almost life-size freestanding cut-outs by Keith Bloody Mary the gallery's six artists take inspiration from a myriad of source material. Rhed Fawell and Mark Murphy's work both focus on the process of the deconstruction and reconstruction of found images. Fawell seeks to explore the sense of unknowing in a constantly shifting world whilst Murphy's work reflects upon modern culture by literally slicing apart its imagery and reassembling it into striking, disjointed combinations.
Clare Fisher makes dynamic collages from current fashion and beauty magazines, books and printed imagery, altering the image to change the context of its meaning, these works focus on the exploitative nature of the fashion and beauty industry. Phil Carney's style is interestingly contrasting and you can see the strong influences of cinema through the straightforward, very Film Noir-like, atmospheric storytelling, depicting feelings of loss, desire and the pain of memory between people and places that hold them.
(text adapted from the gallery's exhibition statement)
---
INFORMATION
Tarpey Gallery
77 High Street
Castle Donnington, Derby DE74 2PQ United Kingdom
+44 777 240 4293
HOURS:
Thursday-Sunday, 10AM-5PM
and by appointment