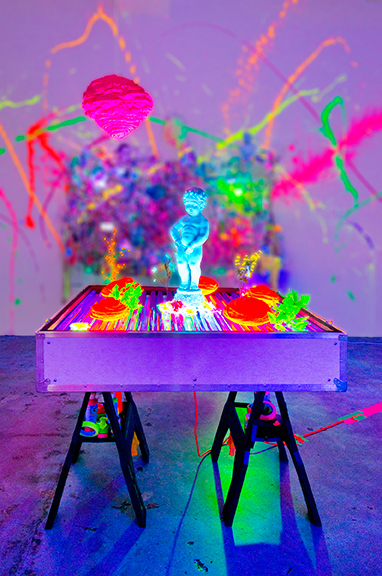 20 June-17 August 2013
"Birth of a Legend": Cameron Gray
Cameron Gray's latest exploit serves up a Dionysian smörgåsbord of state-of-the-art digital technology, where kaleidoscopically bright palettes and hypnotic kitsch run rampant. With your senses utterly titillated and suitably doped, you'll discover his artistic touch is as light as his work is raucous; speed of play carefully calibrated, execution satirically dead-pan and content spot-on HOT. Straddling the line between comfort and the disquietingly uncanny, Gray's gargantuan installations flash, blink, twirl and pulsate off the walls in total pandemonium, culling visual and auditory white noise from the vast Internet in something akin to a holy art apocalypse. As Gray descends into the deepest realms of the web world, we can only look on and marvel at the chaos that we have created.
Simultaneously chaotic, organic, orgasmic, and narcotic, Gray delivers the Cadillac of collage, the epitome of hyper-stimulation, and the ultimate state of transcendence – a meaningless yet tantalizing void, where nothing is sacred.
Born in Geneva in 1980, Cameron Gray lives and works in London, Basel, and Los Angeles. Graduating egregia cum laude from Bruce High Quality Foundation University, Gray also holds no less than six degrees from such prestigious institutions as Yale, Columbia, and UCLA. Prior to his ascension into the upper levels of the art historical pantheon, Gray will have participated in two Venice Biennales, including the one to take place in 2015, and three Whitney Biennials, including those in 2016 and 2018.  Cameron Gray is currently represented by Mike Weiss Gallery, David Zwirner, Thaddaeus Ropac, Sprueth Magers, White Cube and Pace Beijing, amongst others.
(adapted from the gallery's press materials)
---
INFORMATION
Mike Weiss Gallery
520 West 24th Street
New York, New York 10011 USA
(212) 691-6899
Summer Hours:
Monday-Saturday, 10AM-6PM
and by appointment
Image:
Acid Zen Garden
by Cameron Gray
52″x52″x86″
2013
Courtesy of Mike Weiss Gallery, New York