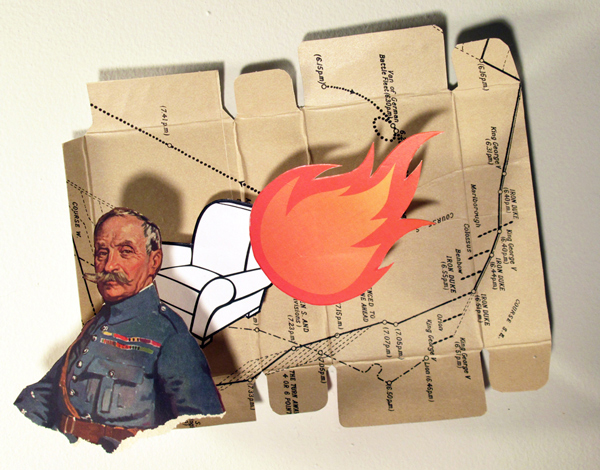 BROOKLYN, NEW YORK, USA
Allan Bealy has been making art for over 40 years, much of it collage. He says, "I am most interested in discovering new ways to tell an old story, with humor, irony and a dash of anarchy!" Originally from Montreal, Bealy now calls Brooklyn home. For the last 20 years, he has worked as an advertising art director. You can find out more at his Tumblr and on his Kolaj Magazine Artist Directory page.
Bealy's portfolio appears in Issue Five where Ariane Fairlie writes,
If there is one artist who truly took to heart the saying "think outside the box", it is Allan Bealy. Each of his collages is set on a cardboard box stage, creating a strong platform for his carefully selected imagery. It is clear in his work that Bealy wants the viewer to enjoy the escapades of his characters, because as one man falls from a ladder, or another falls from the stars, their descent feels calm and peaceful.
To see all of Allan Bealy's Artist Portfolio, purchase Issue Five or SUBSCRIBE to never miss an issue.
Image:
The Admiral
by Allan Bealy
9″x7″
paper on board
2013