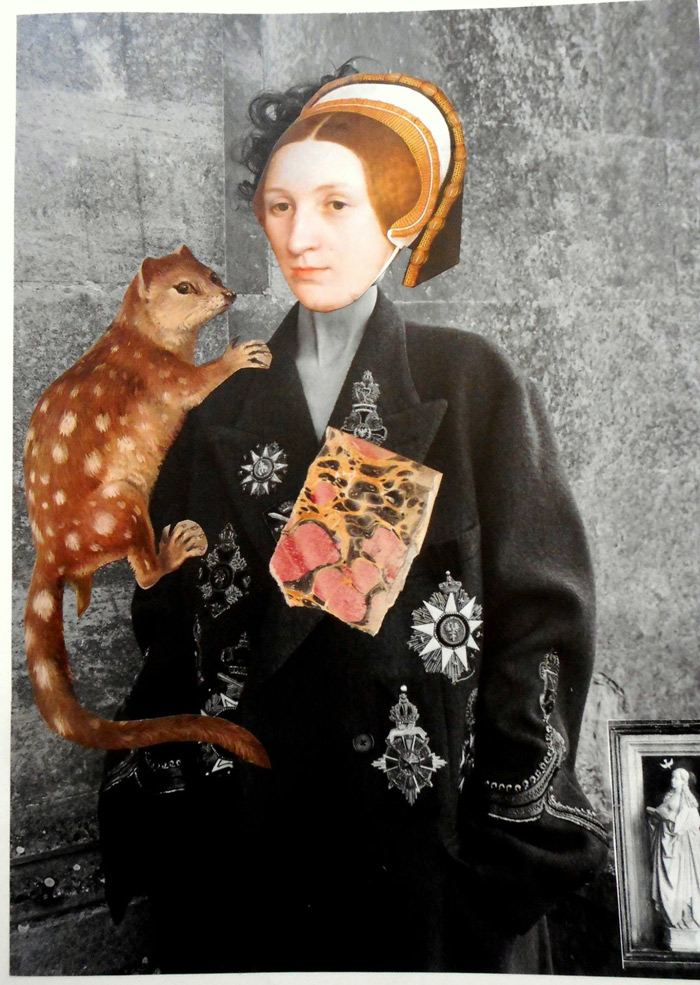 COLLAGE ON VIEW
Carol Reid White: Collage
at Sarah Walker Gallery in Castletownbere, County Cork, Ireland
11 May-17 June 2019
Carol Reid White is an American collage artist and retired museum art educator living in Ireland since 1987. She produces colourful, often humorous collages using human figures and scenes from the natural world, often with a beach setting. She has been working on this particular body of work over the past seven years.
The artist says about her work:
"Collage has been my medium of choice since childhood. A pile of paper off-cuts, magazine pages, tissues, acetate and time-honoured images is intriguing. I spent much of my childhood in museums and have taught art history. The faces of individuals from Caravaggio, Van Der Weyden, Durer to Rembrandt have universal appeal and are used in many of my collages as timeless people in flux. Fleeing, travelling, settling in new and off-putting places, give surreal qualities to the arrangements.
"Looking into the unknown, the ephemeral void, even tomorrow, is alluring. Collage allows me to work through life events. Sharing collage as mail art, collaborative collages, sketchbook work and single imagery are part of everyday."
Indeed, as a past art educator in museums and galleries, the art historical perspective is important to Reid White. Displayed in the gallery are a selection of such collage works, alongside three sketchbooks which show the process of her work. Viewers are encouraged to look through these sketchbooks as well as the works on the wall for a more rounded experience. Recurring motifs of armour, birds and beach scenes form a cohesive thread through the selection; however each individual work also speaks for itself.
(text adapted from the artist's and the gallery's press materials)
(adapted from the gallery's press materials)
---
INFORMATION
Sarah Walker Gallery
The Pier
Castletownbere, County Cork, Ireland
+353 27 70387
Hours:
April-September: Daily, 11AM-6PM
October-March: open most days, Monday-Saturday
or by appointment
Image:
Woman with Book and Numbat
by Carol Reid White
12″x10″
hand-cut paper on paper
Courtesy of the artist