COLLAGE ON VIEW
Cecil Touchon
at Kelsey Michaels Fine Art in Laguna Beach, California, USA
1-26 February 2018
Cecil Touchon's solo show features his recognizable collage work, including a work that took Touchon 12 years to complete: his large-scale homage to Kazimir Malevich's 1912-1913 painting The Knife Grinder (The Glittering Edge). The exhibition also features a collage work that was recently used in three clothing designs released in January 2018 at Paris Men's Fashion Week. Japanese fashion designer Rei Kawakubo, founder of Comme des Garçons, contacted Touchon to purchase the copyright usage for his piece in order to incorporate it into the designs.
Touchon is known for his association with Post-Dogmatism and the Fluxus movement. He is often referred to as a visual poet, hinting at both the usage of language and text in his work, and how the placement of such language offers a visual poetry to the viewer. "My work is a challenge to the difference between representationalism and abstraction because language in general has always been used in modern times as a representational medium."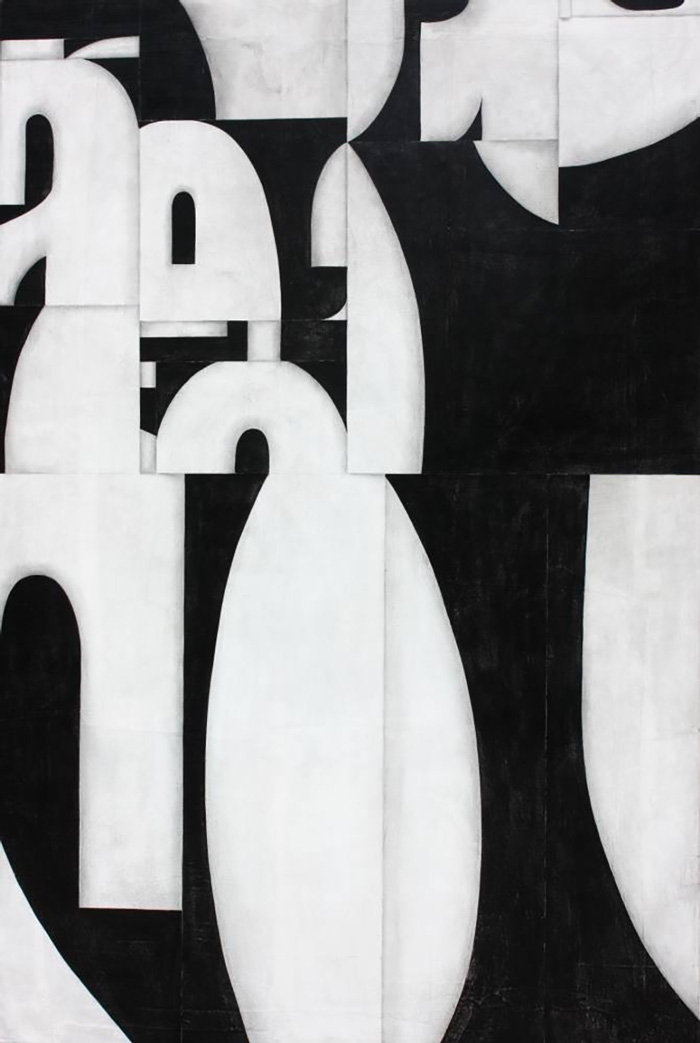 Several pieces are composed of collage materials from old billboard papers that the artist acquired in his travels. It was these old billboards that inspired Touchon's signature style. In the late 1990s, the artist and his family were driving from Colorado to Cuernevaca, Mexico. Around 2AM, Touchon noticed that some of the billboards contained scrambled panels of the ads that came before it. Turns out, when an advertiser failed to pay their bills, instead of painting over the entire billboard, they would just scramble up the panels making them unrecognizable until the next advertiser came along. Touchon was drawn to the unidentifiable compositions that resulted. He has since taken this original visual and created an entirely new and recognizable artistic language of his own.
(adapted from the gallery's press materials)
---
INFORMATION
Kelsey Michaels Fine Art
354 North Coast Highway
Laguna Beach, California 92651 USA
(949) 922-5250
Hours:
Monday, 1-5PM
Tuesday-Saturday, 11AM-5PM
Sunday, Noon-6PM
Images:
(top)
collage by Cecil Touchon
(centre)
Cecil Touchon's collage as part of Rei Kawakubo's show at Paris Men's Fashion Week, 17-21 January 2018