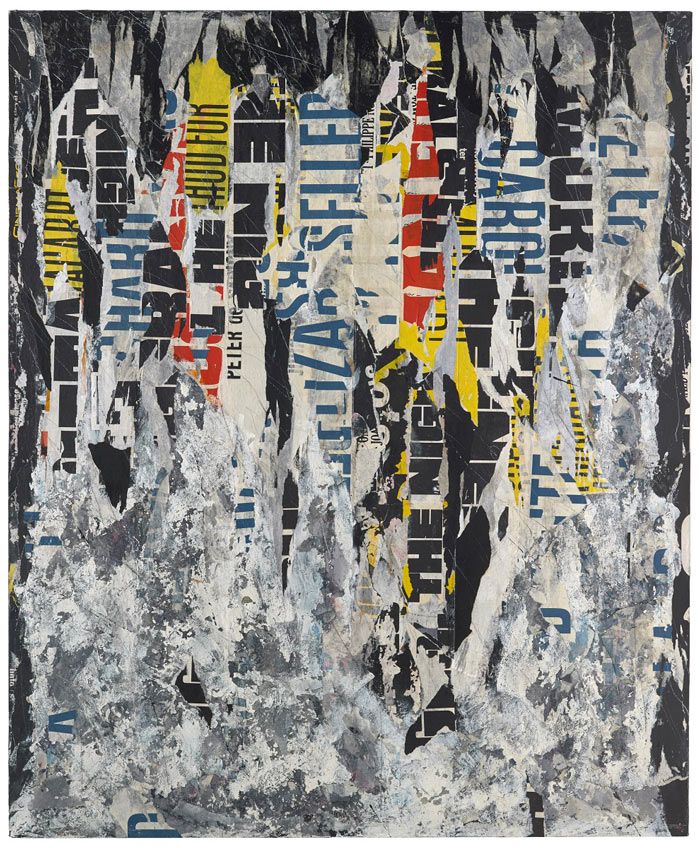 COLLAGE ON VIEW
Susan Reedy: "Urban Passage"
at Anna Kaplan Contemporary in Buffalo, New York, USA
10 February-17 March 2018
Artist talk: Saturday, 17 February, 2PM
The focus of "Urban Passage" is Susan Reedy's mixed media works on canvas that lie at the intersection of painting, drawing, and collage. Reedy's practice is process oriented, involving many layers of material and visual information. The result is a complex surface with many subtleties that reveals itself over time. Reedy sources collage materials from vintage ephemera–posters, fliers, segments of dictionaries, musical scores, magazines, newspapers–which are then used in combination with acrylic paint and various drawing media. She carefully selects her vintage materials in a process she compares to an "archaeological dig" at flea markets, used bookstores, and estate sales and explains, "I have an inherent attraction to the look and feel of source material that has a sense of history to it, particularly things that are perceived as being imperfect. Papers and books that are torn, marked on, held together with string or tape, anything that shows that this object has had a history and a life of its own as it is passed from one hand to another is of interest to me."
By selecting these overlooked objects, Reedy's practice transforms and elevates essentially discarded ephemera, once functional in our society, now obsolete as we shift from analog to digital forms of communication.
The artistic process for Reedy is also in many ways "archaeological". Her layering process is in the end a reductive one as she dives into the many layers she has built up, pulling back materials to reveal what is underneath in order to create her final image–a process that recalls Mark Bradford's use of mixed media. Through the creative process, the text and imagery of the original source material become altered, resulting in new and unexpected combinations of form and context. The techniques used—scraping, tearing and painting over—both destroy and preserve the recognizably vintage materials using contemporary thinking about surface quality and composition.
The aesthetics of the final pieces are meant to explore and respond to facades, most often in urban areas, that are currently in a state of flux due to the passage of time, the elements, and general neglect.
Learn more about Susan Reedy at her Kolaj Magazine Artist Directory page HERE.
(adapted from the gallery's press materials)
---
INFORMATION
Anna Kaplan Contemporary
1250 Niagara Street
Buffalo, New York 14213 USA
(716) 604-6183
Hours:
Saturday, Noon-4PM
or by appointment
Image:
Urban Passage 21
by Susan Reedy
56″x46″
acrylic, vintage dictionary and posters, graphite pencil on canvas
2017
Courtesy of the artist