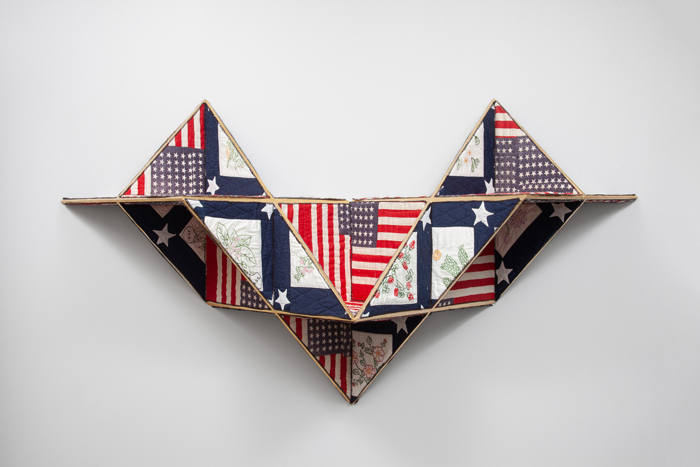 COLLAGE ON VIEW
Sanford Biggers: Codeswitch
at the Bronx Museum of the Arts in The Bronx, New York, USA
9 September 2020-24 January 2021
"Codeswitch" is the first survey of quilt-based works by New York-based interdisciplinary artist Sanford Biggers. The show features over 60 quilt-based works that weave American history into a broader context of global traditions and styles.
For over two decades, Biggers has been developing a singular body of work that is deeply informed by African American history and traditions, and sustains a rich dialog with contemporary art on a national and international level, referencing urban culture, the body, sacred geometry, and American symbolism.
The title, "Codeswitch", refers to both the artists' quilt series known as the
"Codex" series and to the idea of code-switching itself, or shifting from one linguistic code to another depending on the social context. The "Codex" series includes mixed media paintings and sculptures done directly on or made from pre-1900 antique quilts. This process, like linguistic code-switching, recognizes language plurality, as the quilts signal their original creator's intent as well as the new layers of meaning given to them through Biggers's artistic intervention.
In 2009, Biggers was commissioned by Hidden City Philadelphia, a month-long cultural project, to produce a work for the Mother Bethel African Methodist Episcopal Church, a stop on the Underground Railroad. As Biggers began to research the history of the Underground Railroad, he was intrigued by the long debated historical narrative that quilts doubled as signposts along escape routes throughout the 19th century. Inspired by those stories, Biggers created his first quilt-based works for the Philadelphia project, hanging traditional quilts that visually engaged the church's stained glass windows, and also created a "celestial map" handout documenting the city's Underground Railroad sites, with Mother Bethel as the North Star.
The tradition of quilt-making holds a significant place in American culture and has special resonance in African American communities as witnessed in the quilts by the Gee's Bend–a small, insulated African American community in Alabama–that has produced hundreds of quilts from the 19th century to the present. That tradition has been upheld by contemporary artists today, such as Faith Ringgold, Sam Gilliam and Biggers.
"Sanford Biggers: Codeswitch" is a joint collaboration between The Bronx Museum of the Arts and Rivers Institute for Contemporary Art & Thought, New Orleans, overseen by Sergio Bessa (Bronx Museum Curator) and Andrea Andersson, (Founding Director and Chief Curator, Rivers Institute). After closing at The Bronx Museum of the Arts on 24 January 2021, the exhibition will be on view at the Museum of African Art in Los Angeles from 26 March to 12 September 2021 and then travel to the Contemporary Arts Center in New Orleans 20 October 2021 to 23 January 2022.
(text adapted from the museum's press materials)
---
INFORMATION
Bronx Museum of the Arts
1040 Grand Concourse
The Bronx, New York 10456 USA
(718) 681-6000
Hours:
Wednesday-Sunday, 1-6PM
Free tickets must be reserved 24 hours in advance: www.bronxmuseum.org/visit