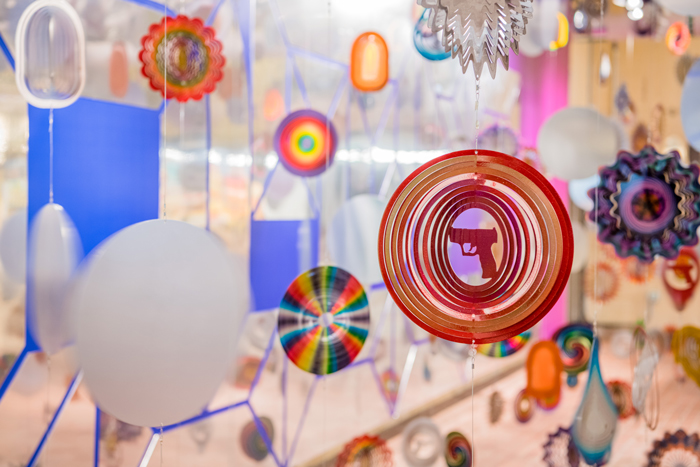 COLLAGE ON VIEW
Nick Cave: Until
at the Momentary in Bentonville, Arkansas, USA
12 September 2020-3 January 2021
Organized by MASS MoCA, "Nick Cave: Until" is the largest and most ambitious project yet from the renowned artist. The immersive exhibition spans over 24,000 square feet of gallery space at the Momentary. But below its surface, "Until" is a response to the question: Is there racism in heaven?
In 1992 Chicago, Cave reflected on the Rodney King police beatings that took place in Los Angeles. Using found objects such as twigs in the park, he created his very first Soundsuit, a wearable sculpture that defends the body and masks identity. Since then, he has created over 500 Soundsuits. In "Until", Cave places viewers inside the metaphorical belly of one of his Soundsuits.
The title "Until" references the phrase "innocent until proven guilty," or, a reversal, "guilty until proven innocent." According to Cave, "Until" came about after the Michael Brown incident in Ferguson, Missouri. "I really hadn't thought about what I was going to do until that incident happened and then, all of a sudden, it became very clear," said Cave. Within the exhibition, Cave addresses gender, race, and gun violence in America.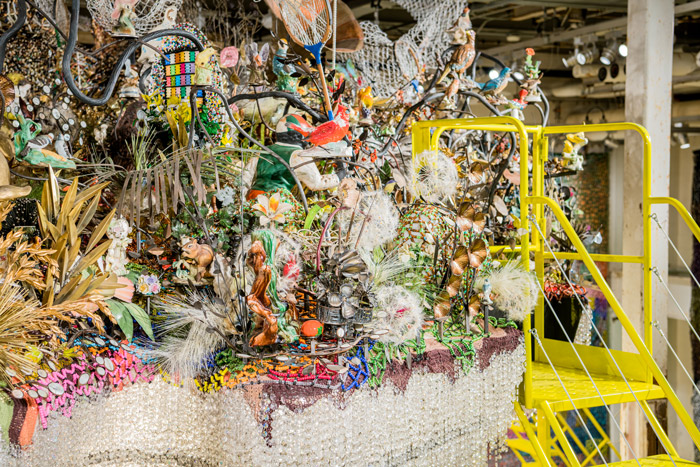 "Until" is composed of six installations that come together to create an immersive space: Unarmed (2016), a wreath of beaded flowers with a cast bronze and metal hand pointing upward in the center; Flow Blow (2016), a wall of shimmering party streamers that dances by blowing fans, spelling the word "flow"; Hy-Dyve (2016), a 14-channel video installation with sound that repeats images of staring eyes in an eight-minute loop; Beaded Cliff Wall (2016), a netted wall constructed with millions of plastic hair pony beads, shoelaces, and rope; Kinetic Spinner Forest (2016), a collection of 16,000 hanging wind spinners displaying images of bullets, guns, and targets; and Crystal Cloudscape (2016), a massive work of mixed media featuring more than 10 miles of crystals, 24 chandeliers, and a private garden filled with found objects. Made specifically for the Momentary, the gallery walls adorn new wallpaper designed by Cave and his partner, artist Bob Faust.
Cave is an artist and dancer known for his unique fabric sculptures and performances. Born in Fulton, Missouri in 1959, he studied fiber arts at the Kansas City Art Institute (BFA, 1982), before going on to receive his MFA from Cranbrook Academy of Art in Michigan (1989). Cave also attended North Texas State University (1984-86) and trained with the renowned Alvin Ailey American Dance Theater. Today, the artist lives and works in Chicago, where he recently opened a new multi-disciplinary creative space called Facility and serves as the director of the fashion program at the School of the Art Institute of Chicago.
Through the decades, Cave addresses issues of racial inequality in the United States through his work. Today, the artist's works are held in the collections of Crystal Bridges Museum of American Art, the Museum of Modern Art in New York, the Detroit Institute of Arts, and the High Museum of Art in Atlanta, among others.
(text adapted from the gallery's press materials)
---
INFORMATION
The Momentary
507 SE E Street
Bentonville, Arkansas 72712 USA
(479) 367-7500
Hours:
Sunday, Tuesday, Wednesday, 10AM-7PM
Thursday-Saturday, 10AM-10PM