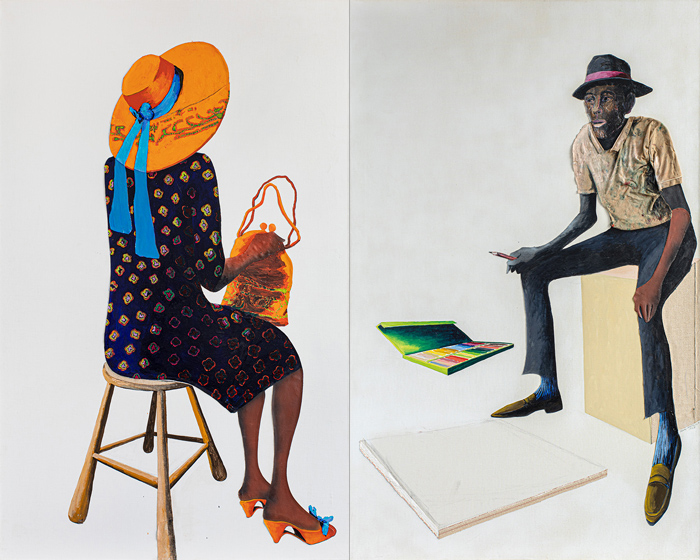 COLLAGE ON VIEW
Benny Andrews: Portraits, A Real Person Before the Eyes
at Michael Rosenfeld Gallery in New York, New York, USA
opening 26 September 2020
"Benny Andrews: Portraits, A Real Person Before the Eyes" features 35 portraits, represented by paintings and works on paper created between 1957 and 1998. The exhibition is accompanied by a fully-illustrated color catalogue with new scholarship by Jessica Bell Brown, Associate Curator for Contemporary Art, The Baltimore Museum of Art; Connie H. Choi, Associate Curator, Permanent Collection, The Studio Museum in Harlem; and Kyle Williams, Director of the Andrews-Humphrey Family Foundation.

The exhibition traces Andrews' (1930-2006) commitment to portraiture, beginning in 1957 with Andrews' seminal collage painting Janitors at Rest, and including portraits of fellow artists Marcel Duchamp, Ludvik Durchanek, Norman Lewis, Ray Johnson, Alice Neel, and Howardena Pindell, and also of his father George C. Andrews, and wife, Nene Humphrey. While Andrews created portraits of people he knew, as well as of himself, portraiture also served as a vehicle through which he could metaphorically express the personification of ideas, thoughts, emotions and values.
In his deeply humanizing portraits, Andrews employed his signature and pioneering use of paint and collage to build surface in order to create depictions composed of fleshy tactility, extending his sitters into three-dimensional space as a way of reinforcing their human presence and defining their distinct characteristics, since "collage provided him with a degree of depth and breadth not found in painterly realism."* Indeed, his discovery of collage and texture was a way to construct surface in order to affirm his interest in both the individual and shared experience of humanity. His powerful depictions of people—both named and unnamed—reinforce his deep connection to the emotional soul of mankind.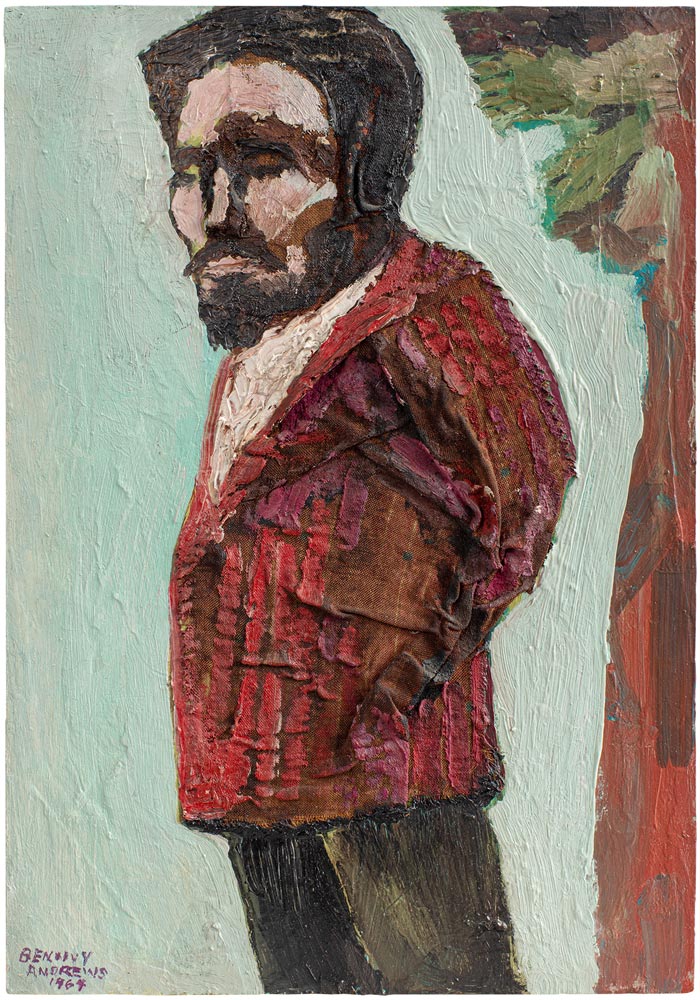 Searching for a visual language to capture the immediacy of everyday life and the quotidian nature of his subject matter, Andrews first developed his "rough collage" technique, combining scraps of paper and cloth with oil paint on canvas, as a student. He honed this technique in a breakthrough period during his studies at the School of the Art Institute of Chicago, when, in 1957, he was struck by the school's African American janitors and created the pivotal Janitors at Rest, which first introduced collage into his painting. This critical component would inform the rest of his artistic career. The work—begun during his last year of school—became a turning point for him as he began to completely devote himself to painting. At the same time, he began studying with the painter Boris Margo (1902-1995). Indeed, Andrews was inspired by the janitors and their environment, studying their faces and experimenting with their materials—like towels and toilet tissues.
In 2008, Michael Rosenfeld Gallery LLC became the representative of the Benny Andrews Estate and this exhibition has been organized with their cooperation.
*McDaniels III, P. (2017). A Love of everything: Benny Andrews, American history, and the politics of representation. In Benny Andrews: The Bicentennial Series. New York: Michael Rosenfeld Gallery LLC, 17.
(text adapted from the gallery's press materials)
---
INFORMATION
Michael Rosenfeld Gallery
100 Eleventh Avenue
New York, New York 10011 USA
(212) 247-0082
Hours:
By appointment only. Schedule your appointment HERE.