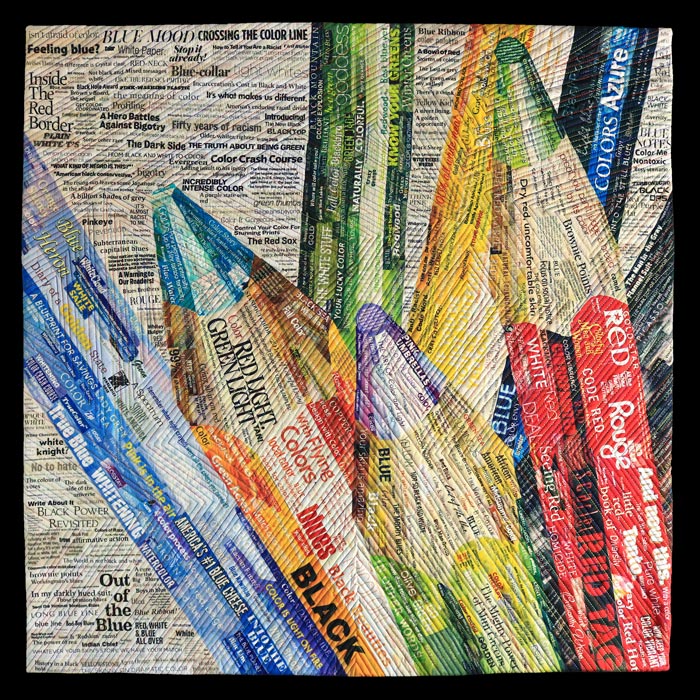 COLLAGE ON VIEW
Commentaries on Cloth
at the Gallery at 48 Natoma in Folsom, California, USA
27 January-6 April 2023
There is more to contemporary quilting than your grandmother knew. Many fiber artists use a myriad of techniques to convey thought provoking messages. "Commentaries in Cloth" featuring quilts by the Pixeladies and sculpture by Susan Else .
The Pixeladies, Deb Cashatt and Kris Sazaki, have been collaborating since 2003. "We love language and word forms. Combining that love with a strong sense of social justice drives us to make art out of headlines," the two artist say about their work. After cutting and pasting words and phrases from a wide array of publications, they collage them to form everyday objects or people. They then scan the collages into the computer and have the final version printed onto fabric. The resulting whole-cloth quilt is densely quilted by machine or by hand.
Their studio is located in Cameron Park, California, where they have dedicated studio days for the construction of their artwork. They also spend a lot of time in front of the computer, collaborating online and preparing their designs for printing. Their work has been widely published and exhibited nationally and internationally, including Canada, Japan, and South Africa.
Susan Else describes her work as "stealth art": the comfortable ambiance of sewn cloth draws viewers in, where they are confronted with the uncomfortable paradoxes of contemporary life. Her work is part of the art quilt movement, but she is one of the few artists making figurative sculpture–often incorporating sound, light, and movement–from this medium. "I use vibrant cloth to create an alternate universe, and the resulting work is whimsical, edgy, mundane, surreal, and engaging, all at once," explains Else. The power and beauty of the collaged and quilted surface play off the form and narrative content of the work, resulting in a dynamic seesaw of meanings and possibilities. "My sculpture often incorporates cloth-covered bones, a powerful symbol evoking both human mortality and human history. I am interested in daily life and its instant mutability, and my best work conflates conflicting human impulses into a single image."
(text adapted from materials provided by the gallery)
---
INFORMATION
Gallery at 48 Natoma
48 Natoma Street
Folsom, California 95630 USA
(916) 461-66-1
Hours:
Monday, Wednesday, Friday, 9AM-4:30PM
Tuesday, Thursday, 9AM-4:30PM and 6-8PM