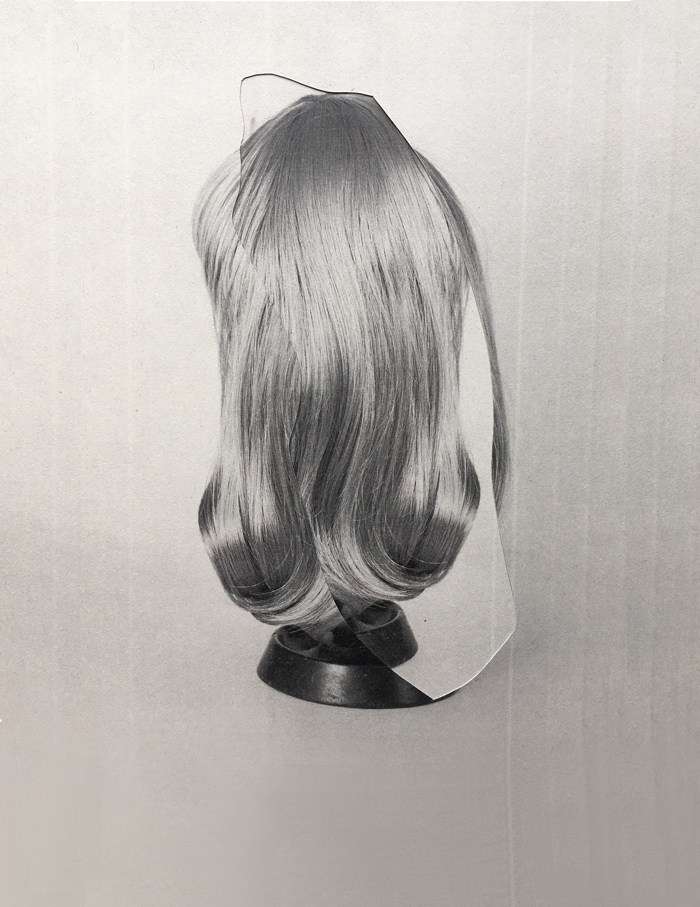 COLLAGE ON VIEW
Sarah Eyre: Copy/Cut/Paste
in the Boardroom at Leeds Arts University in Leeds, England
20 September-1 November 2019
Sarah Eyre is Course Leader for Fashion Photography at Leeds Arts University, and is currently completing doctoral study at Manchester School of Art.
Eyre's current research-practice investigates the wig in its disembodied state. Wigs serve a very particular social and performative function, which is to affirm, exaggerate or disguise some aspect of the wearer's identity, or project a new one. They are also part object, part body, and can reveal anxieties around the boundaries between the self and the outside world.
Through photography and collage techniques, Eyre "opens up" the wig to explore its strange, uncanny vitality and degrees of non-human agency. These methods probe the gaps between wig and body, and the gap between the physical object and its photographic representation. This research is situated within a new materialist methodological framework, which argues that all non-human objects are more than their effect on humans.
(text adapted from the university's press materials)
---
INFORMATION
Leeds Arts University Boardroom
Blenheim Walk
Leeds, West Yorkshire LS2 9AQ United Kingdom
+44 113 202 8000
Hours by appointment only