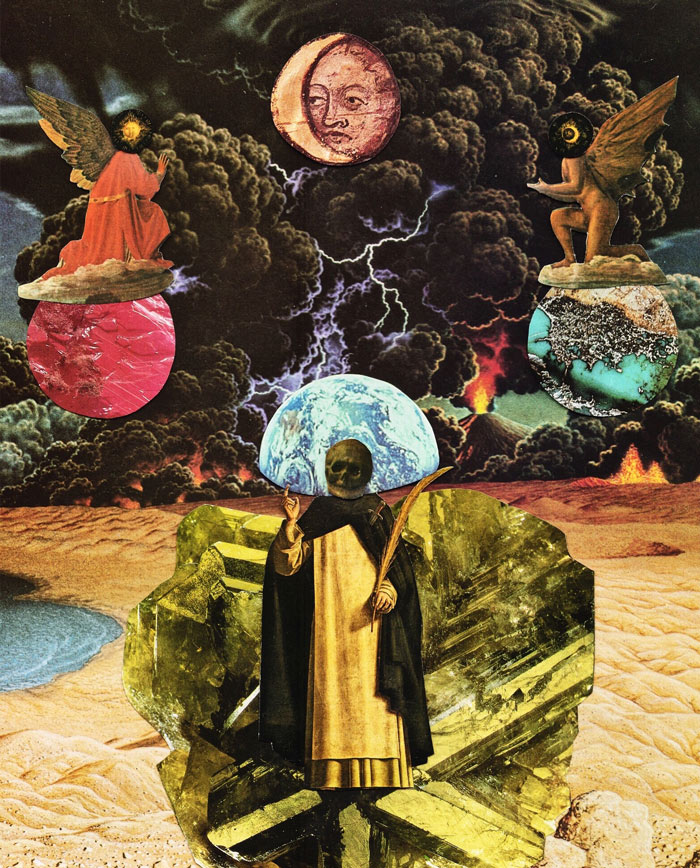 COLLAGE ON VIEW
The Lifting of the Veil: The Optimists Apocalypse
at Artisan Bar & Cafe in New Orleans, Louisiana, USA
12 October-9 November 2019
"The Lifting of the Veil: The Optimists Apocalypse" brings together a group of New Orleans-area artists working in different mediums to explore the Latin translation of apocalypse, which is "uncovering", or "the lifting of the veil", and how that could denote a dramatically altered future that is not entirely catastrophic. Inspired by the Utopian fiction and pulp magazines of the 20th century, each piece transports the viewer into a post-apocalyptic future with a silver lining.
What is it about the end of our world that has always fascinated us? Do we fantasize about society's collapse because we fear it, or because we desire to return to a wilder way of living? Why do we fixate on what could go wrong but never what we could make right? What do doomsday preppers and the sci-fi obsessed have in common? None of these questions answered and more.
Exhibiting artists are Jan Arrigo, Cain Clement, Kevin Comarda, Maria Degtiarenko, Christopher Kurts, Savanna Meekins, Michael Pajón, Eric Static, and Austyn Sullivan
In addition to their exhibited works, artists will also have prints and small original works available for sale.
(text adapted from the curator's press materials)
---
INFORMATION
Artisan Bar & Café
2514 Saint Claude Avenue
New Orleans, Louisiana 70117 USA
(504) 510-4340
Hours:
11AM-closing