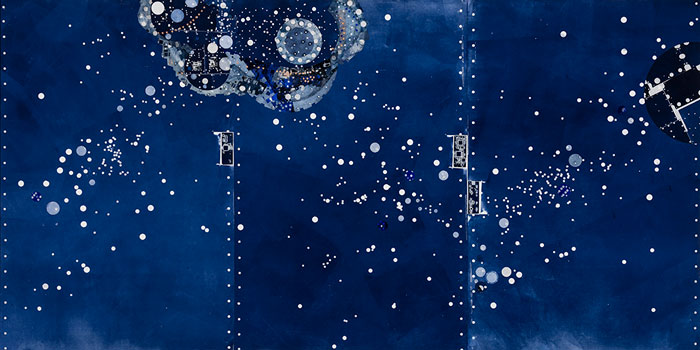 COLLAGE ON VIEW
The Firmament
at Cynthia-Reeves in North Adams, Massachusetts, USA
On view starting 12 October 2019
"The Firmament" is a show of new work by Canadian artist Catherine Farish. Farish's new series pays homage to humanity's unrelenting impulse to explore our cosmos, evoking the ancient history of celestial mapping coincident with the fugitive technologies of the moment. The summary of these works suggests both past and future, in an eclipsed moment of humanity's quest to penetrate and understand deep space, and our place in it.
Farish uses pinholes and perforations in combination with collage and etching to suggest the star-scape spattered across our Milky Way. The impression of the cosmos is immediate and impactful: the viewer, in one glance, comprehends how insignificant we are–the fine detail integral to these unique works connotes the infinite spray of galaxies in which our human inquiries play only an infinitesimal role.
Dame Catherine Farish has been awarded Canada's highest honour for cultural contributions to her country. She lives and works outside of Montreal and teaches studio art at the University of Quebec at Montreal.
(text adapted from the curator's press materials)
---
INFORMATION
Cynthia-Reeves
1315 MASS MoCA Way
North Adams, Massachusetts 01247 USA
(413) 398-5257
Hours:
Wednesday – Saturday, 11AM– 5PM
and occasional Sundays