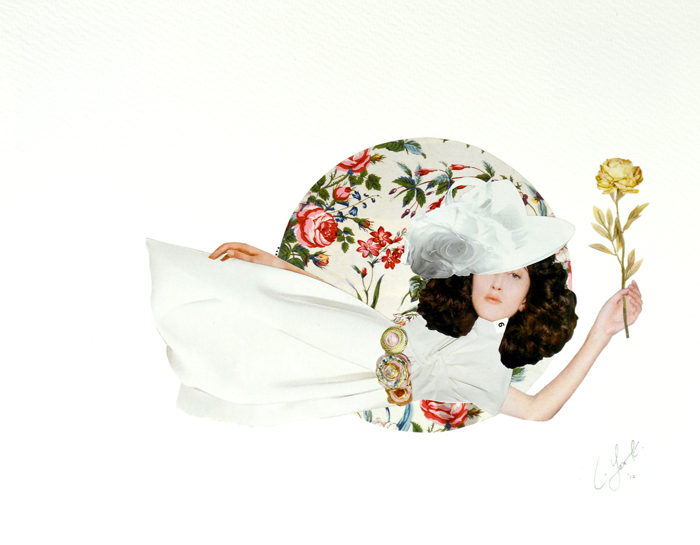 COLLAGE ON VIEW
Creatures & Objects: Lola York
at Oresman Gallery in Larchmont, New York, USA
11 January-27 February 2019
Opening reception: Saturday, 12 January, 2-4PM
Mexican collage artist Lola York presents a solo show of analogue collage at the Oresman Gallery at the Larchmont Public Library.
York presents thirty-five small-format works that were created in Mexico specifically for the exhibition. The exhibition also includes new work made with fabric and examples of York's research into collage. She works mainly with images cut from fashion magazines, using textures and body parts to play with proportions which become female figures that are pasted over white backgrounds, sometimes with a hint of watercolour and graffiti.
York said about her process, "Sometimes I play a game with a cynical sense of humour. Sometimes they are more serious and painful, but most of the time I think that my work will show whatever the audience wants to see. When I start to work on a new collage, for example, I display lots of image clippings on my desk, bed, floor and whatever I can use as a surface to see what I have to start the piece with. After a bit of time, many other ideas, feelings and thoughts come and pass through my head. For that reason I never work on just one piece at a time. I am always working on several pieces simultaneously. My inspiration comes from creating."
Lola York, originally from Guanajuato, Mexico, has been working in collage since 2014 and has shown her work in both Mexico and the U.S. She is a member of the Sociedad Mexicana de Collagistas.
(Text adapted from the artist's press materials)
---
INFORMATION
Oresman Gallery
Larchmont Public Library
121 Larchmont Avenue
Larchmont, New York 10538 USA
(914) 834-2281
Hours:
Monday, 9AM-9PM
Tuesday-Wednesday, 9AM-6PM
Thursday, 9AM-9PM
Friday-Saturday, 9AM-5PM
Sunday, Noon-5PM
Image:
Redemption
by Lola York