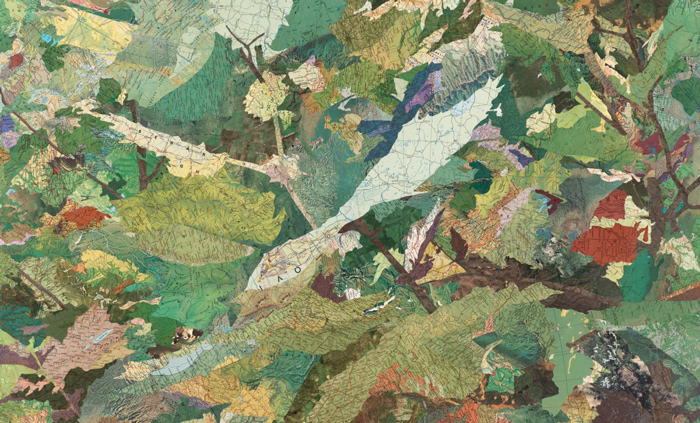 Matthew Cusick and Diane Samuels: Crosscurrents
13 April-20 May 2017
Opening reception: Thursday, April 13, 2017 from 6-8pm
"Crosscurrents" is a two-person exhibition of intricately wrought collages by Matthew Cusick and Diane Samuels, whose respective practices reflect a deep commitment to process, narrative and the archival impulse.
As an alternative to paint, Matthew Cusick employs an inlaid collage technique, which utilizes the inherent line, motion and prescribed palettes found in maps and other printed ephemera. In his sprawling landscapes, crashing waves and dense forests we begin to see not only the beauty and grandeur of nature, but also its violence, hidden threats and isolation. This duality is clearly expressed in Waldeinsamkeit, which translates as "forest" and "solitude or loneliness". The composition of this four by ten foot, multi-paneled piece is based on two black and white photographs taken in Virginia during the artist's first cross-country road trip in the early 1990s.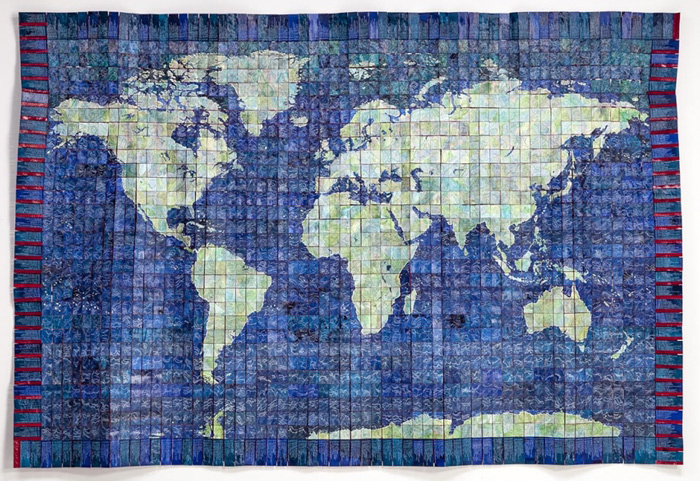 While Cusick meticulously researches, collects and archives his source materials, Diane Samuels builds on intensive community engagement and a passion for literature in the form of interviews, conversations, archival documents, folk tales and storytelling. Using the words and stories of writers and non-writers alike, Samuels painstakingly transcribes in her signature micro-script entire novels, line-by-line, onto countless fragments of handmade, painted and hand-dyed paper. In one work on view, Moby-Dick, Herman Melville's unforgettable opening, "Call me Ishmael" is found at the top corner of this epic 42-foot scroll then coincidentally reappears in the final words of Samuels' newest work where she has transcribed by hand the first lines of 1,740 books in her personal library. This imposing work, titled First Lines, comprised of small rectangles of handmade paper, comes together to form a richly hued mappamondo, representing the myriad ways in which reading has shaped her understanding of the world. Each rectangular segment is meticulously painted, drawn and collaged, then methodically numbered and recorded with title and author in a legend found in the blue and magenta border round the outer edge.
(adapted from the gallery's press materials)
---
INFORMATION
Pavel Zoubok Gallery
531 West 26th Street
New York, New York 10001 USA
(212) 675-7490
Hours:
Tuesday-Friday, 10AM-6PM
Saturday, 11AM-6PM
Image: (top)
Waldeinsamkeit (detail)
by Matthew Cusick
42″x120″
inlaid maps on aluminum panels
2016
Image courtesy of Pavel Zoubok Gallery, New York
Image: (centre)
First Lines
by Diane Samuels
66″x96″
ink and handmade paper
2017
Photo by Thomas Little
Image courtesy of Pavel Zoubok Gallery, New York