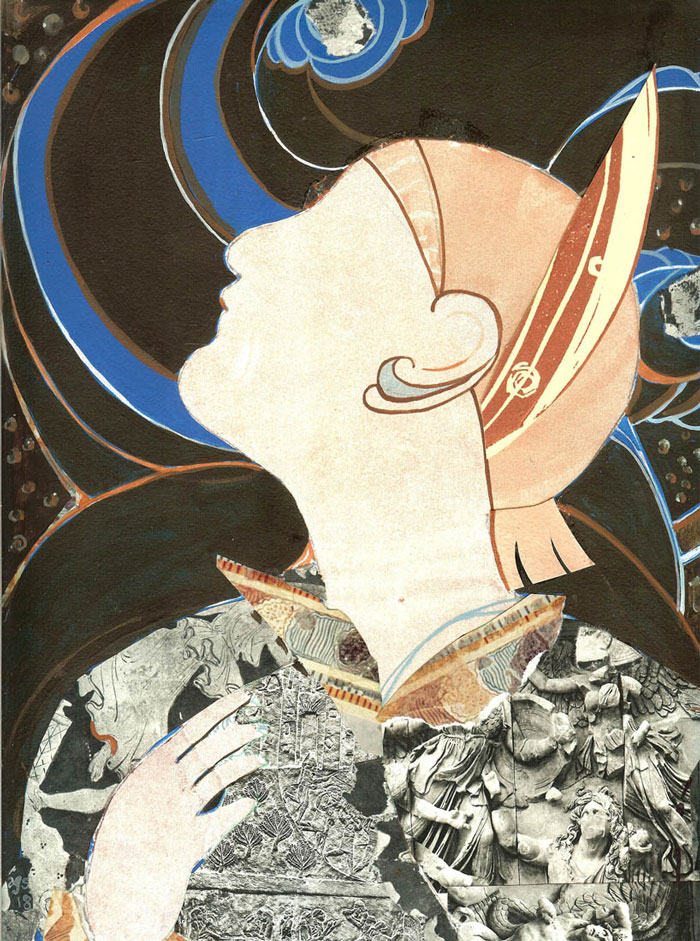 COLLAGE ON VIEW
Cut Pieces: A Group Exhibition of Collage
at Emerge Gallery in Saugerties, New York, USA
2 June-2 July 2018
"Cut Pieces" includes art by 45 artists who apply collage elements using various styles and mediums: acrylic, drawings, fibre, mixed media, monoprints, oil, photography, and pottery.
Artist Lucinda Abra uses oil, collage and encaustic to breathe life into her work that celebrates mythology inspired piece Water Guardian; artist Cheryl Lickona combines vintage images and her love of photography as a storytelling vehicle in her digital collage Rose Web, while photographer jd weiss uses hand-painted, medium-format film to create the photo collage fantasy pathway to dreams; artist Susan J. Murphy marries her photographs with traditional collage elements in creating abstract collage, while fiber artist Carol Nipomnich Dixon incorporates papers, photos, and found objects into traditional stitchery in her embroidered piece Tune Upon a Blue Guitar; and Potter Andrea Walcutt Perez combines pieces of her pottery with elements from nature, such as lichen, to create her three dimensional landscape.
Traditional hand-cut paper collage is also on exhibit through the work of many artists including Angela Gaffney-Smith (image above) who repurposed images from the 1970's book The History of Art (which contained no women artists) to make her Greek mythology-inspired work; Luis Alves who uses images from television, film and advertising illustrates, through his collage Success, how society obsessively consumes myth and fakery; and from abstract artist Igor Gnedo who has created his first collage, Collagenikov, from historic images that reflect the war news coming from around the world and the helplessness of the United Nations.
Additional artists include Joan Barker, Loel Barr, Edward Berkise, Miriam Bisceglia, Fon Borrello, Barbara Bravo, Chris Corbalis, Theresa Landi Daniel, Maxine Davidowitz, Shelley Davis, Cheryl Dawdy, Jane Dell, Rosalie Frankel, Lynne Friedman, Patti Gibbons, Madlyn Goldman, Annette Jaret, Deborah Joyce, Lois Linet, Dorothea Marcus, Lynne McCreary, Ellen McKay, Gloria Mirsky, Ann Morris, Xek Noir, Susan Phillips, Betsy Regan, Marilynn Rowley, Karen Schaffel, Heidi Sheppard, Roberta Sickler, Margaret Still, Sylvia Taylor, Brad Terhune, Claudia Waruch, and Betsy Wilson.
"Cut Pieces" is curated by Emerge Gallery director Robert Langdon.
(adapted from the venue's press materials)
---
INFORMATION
Emerge Gallery
228A Main Street
Saugerties, New York 12477 USA
(845) 247-7515
Hours:
Monday, 11AM-6PM
Thursday-Saturday, 11AM-6PM
Sunday, 11AM-5PM
Image:
Athena Knew Alcyoneus
by Angela Gaffney-Smith
20″x16″
collaged pages from the 1970s textbook The History of Art
Courtesy of the artist and Emerge Gallery, Saugerties