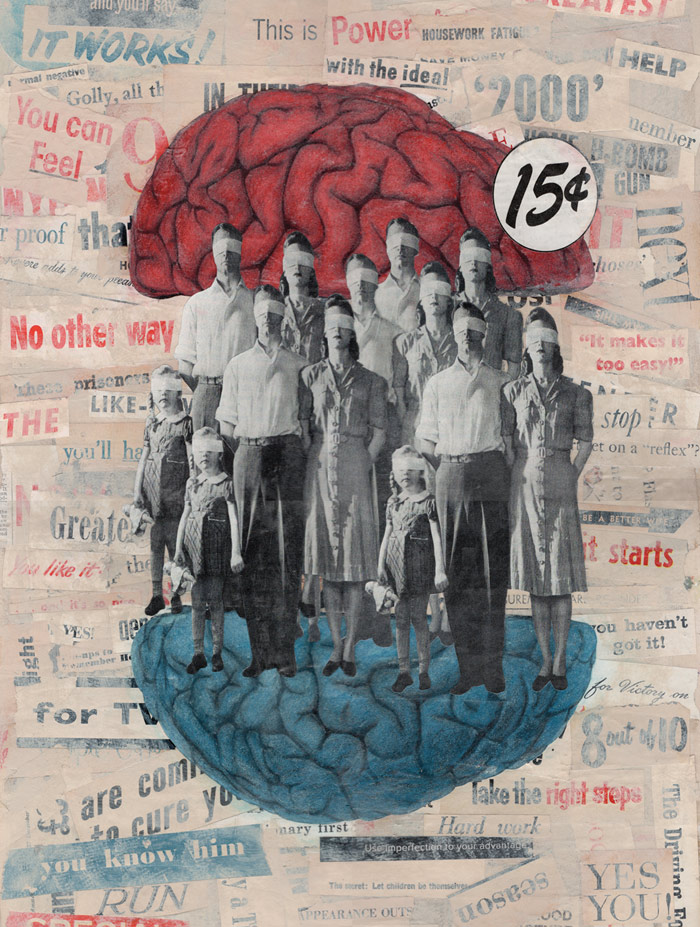 COLLAGE ON VIEW
Inner: Sydney Collage Society
at Ellery in Paddington, New South Wales, Australia
14 June-5 July 2018
"Inner", featuring work by members of the Sydney Collage Society, is an internal monologue–sounds off the walls, repeating, echoing, altering.
The voices conjure notions that sit in and beneath the depths of the mind, be they guiding, destructive or placid. The surface is both a window and mirror to the places we go to elude and be.
By the page torn; the photograph cut; and in the assemblage of fragments, these artists generate works that speak to the interior.
Artists included in the show are: Danilo Brandão | Millie Bartlett | Kitty Callaghan | LA Early | Gabriel Mello | Liz Peniazeva | Stephen Tierney | Lyndon Pike | Kubi Vasak
About the Sydney Collage Society
Founded in 2015, by Kubi Vasak and Leah Early, the Society pushes the boundaries of cut-and-paste with a focus on celebrating the creative community of Sydney, while also promoting and fostering a healthy appreciation for the art of collage across the whole of Australia through sharing, exhibiting and supporting the works of artists at home and abroad. The Sydney Collage Society has exhibited both locally and internationally, presenting a show in July 2017 in New York City in collaboration with Brooklyn Collage collective.
(adapted from the gallery and Sydney Collage Society's press materials)
---
INFORMATION
Ellery
213 Glenmore Road
Paddington, New South Wales 2021, Australia
+61 (02) 8313 7658
Hours:
Sunday, 11AM-5PM
Monday-Wednesday, 10AM-6PM
Thursday, 10AM-7PM
Friday, 10AM-6PM
Saturday, 10AM-5PM
and by appointment
Image:
Fire & Forget
by Millie Bartlett
23.4″x16.5″
paper collage, watercolour pencil, acrylic and gel transfer on card
Courtesy of the artist, Sydney Collage Society and Ellery, Paddington