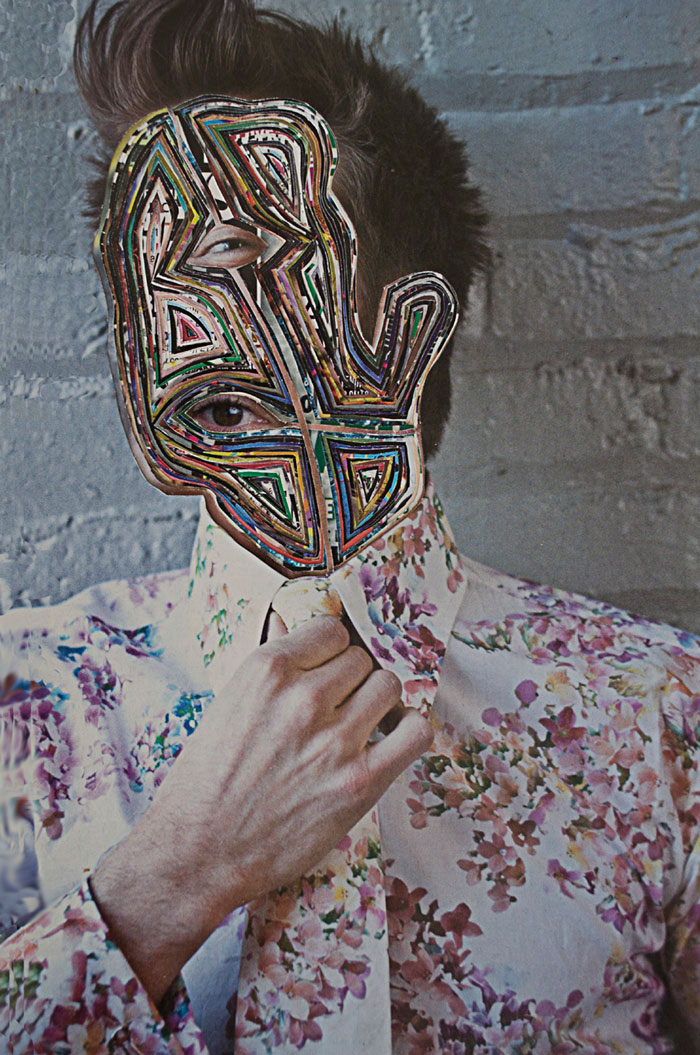 Cut Ups: Queer Collage Practices
14 October-18 December 2016
"Cut-Ups: Queer Collage Practices" brings together works by an intergenerational group of fourteen queer artists who explore the collaged page or the scrapbook with diverse, erotically inclined tactics. The exhibition draws from both archival collections and contemporary practices, focusing on how these artists reuse the pieces of print culture for worldmaking projects ranging from the era of gay liberation to the present. The exhibition places special focus on the work of four rarely exhibited artists, who produced collages for personal pleasure, drawn from the collections at ONE Archives at the USC Libraries and the Leslie-Lohman Museum of Gay and Lesbian Art. From ONE, this includes the anonymous "Graphic Albums Collection," which combines gay male pornography with pages from interior design and visual arts magazines, and collages by erotic artist Olaf Odegaard. From the Leslie-Lohman Museum, the anonymous "West End Avenue Collection," is a vast archive of Xeroxed collages of BDSM imagery, many including Nazi fetishism, and collages by psychic Ingo Swann, who developed a process known as "remote viewing" for the CIA during the 1970s. In addition, the exhibition includes collages by Steve Blevins as reproduced in gay porn magazines from the 1980s, often as illustrations for erotic fiction. Theses eclectic producers all utilize gay male pornography to innovative and wildly explicit ends.
Cut-Ups, while undoubtedly a celebration of the numerous uses of gay male pornography, includes historical and contemporary feminist collage practices that address gay male phallocentrism with feminist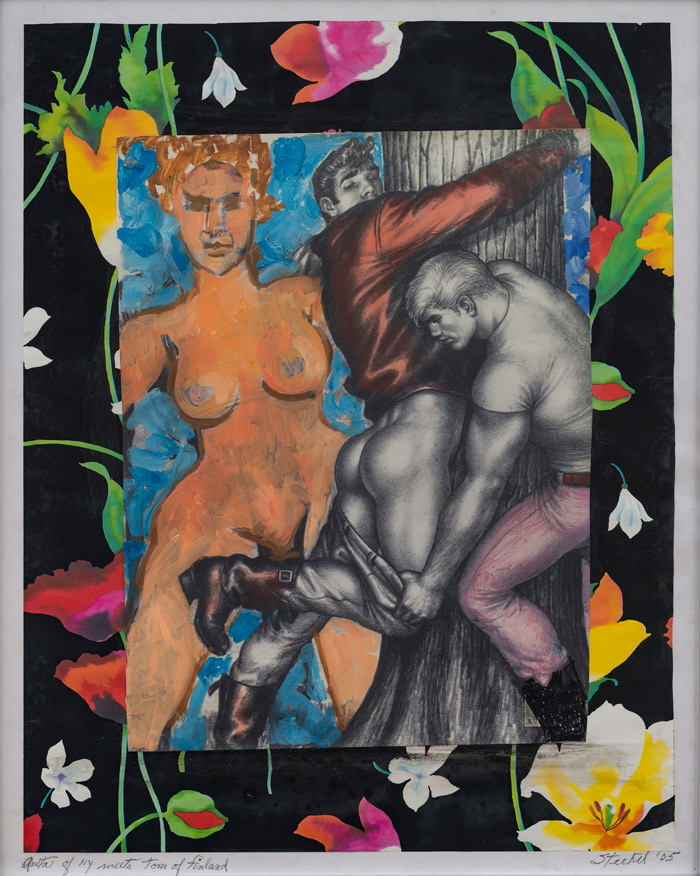 critique and lesbian power. This exhibition incorporates a site-specific installation by feminist pioneer Mary Beth Edelson, part of an ongoing series of collage projects initiated years after her renowned collage posters of the 1970s; and a series of mixed-media collages by veteran feminist artist Anita Steckel that places the artist within drawings by Tom of Finland, exploring the possibility of alternate forms of cross-gender desire and visual pleasure.
Many of the artists in Cut-Ups utilize collage for deconstruction or intervention within the circulation of images. Enrique Castrejon meticulously cuts-up and measures the figures from the gay porn magazine Black Inches. Jonathan Molina-Garcia combines images of his own body with those of older HIV+ men as part of a larger series on gay male intergenerational knowledge. Suzanne Wright merges the female body with monumental and utopian architecture. Glenn Ligon plays with the vernacular form of the photo-album, combining fetishistic photographs of Black men with family photographs. Jade Yumang screen-prints pages from vintage porn magazines onto fancifully decorative bundles of soft sculpture phalluses. In a newly commissioned work responding to the archive of West End, Kate Huh utilizes fragments from the collection to produce collages that are embroidered by LJ Roberts.
(adapted from the gallery's press materials)
---
INFORMATION
Leslie-Lohman Museum of Gay and Lesbian Art
26 Wooster Street
New York, New York 10013 USA
(212) 431-2609
Hours:
Tuesday-Wednesday & Friday-Sunday, Noon-6PM
Thursday, Noon-8PM
Image: (top)
Weeklies #19.37 (New York City) (from the "Weeklies" series) (detail)
by Jade Yumang
cut magazine
2012
Courtesy of the artist
Image: (centre)
Anita of New York Meets Tom of Finland
by Anita Steckel
19.6″x13.5″
mixed media on book pages
2005
Courtesy Estate of Anita Steckel and the Suzanne Geiss Company, New York