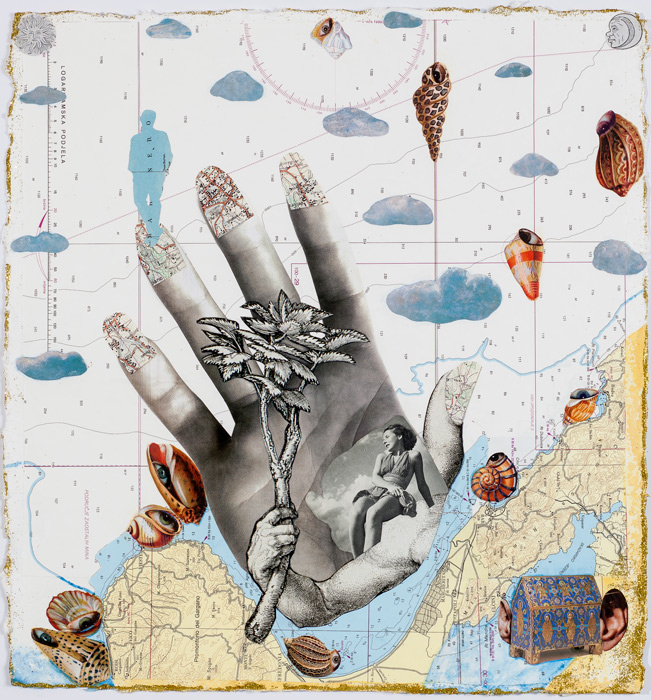 22 May-28 June 2014
Déirdre Kelly: "Not To Be Used For Navigation"
Impossible landscapes, routes and directions emerge from Déirdre Kelly's "altered" maps which are certainly "not to be used for navigation". Maps are tools that provide the means by which we both organize and locate ourselves within a continually changing world. Kelly manipulates cartography to create her own personalized maps. Standing before these map collages, the viewer is both "found" and "displaced" in relation to pictorial worlds, as the overarching spatial rules collide with the particulars represented.
From palimpsest to hypertext, artists have literally and conceptually been "mapping" the world, looking at the familiar in different ways, as new technologies have replaced the magical world of wonder encapsulated in hand-drawn maps and atlases of the past. "My map is my mirror" is how Kelly describes her infinite map, reminding us of the human need and a desire for physical maps, now more than ever.
Born in London, Déirdre Kelly lives and works in London and Venice. Since 1985, Kelly has been exhibiting her works in England, France, and Italy. Her works can be found in many private and public collections including: Museum of Modern Art Library, New York; Tate Gallery Library, London; Reuters Ltd and Sedgewick Group International.
(adapted from the gallery's press materials)
---
INFORMATION
SG Gallery
Scuola Internazionale di Grafica
Cannaregio 1798
30121 Venice, Italy
(39) 41 721 950
Image:
Like the Back of My Hand
by Déirdre Kelly
15.5″x16″
collage and mixed media on paper, hand-made in Venice
2014
Image courtesy of the artist
Photo: Francesco Alegretto