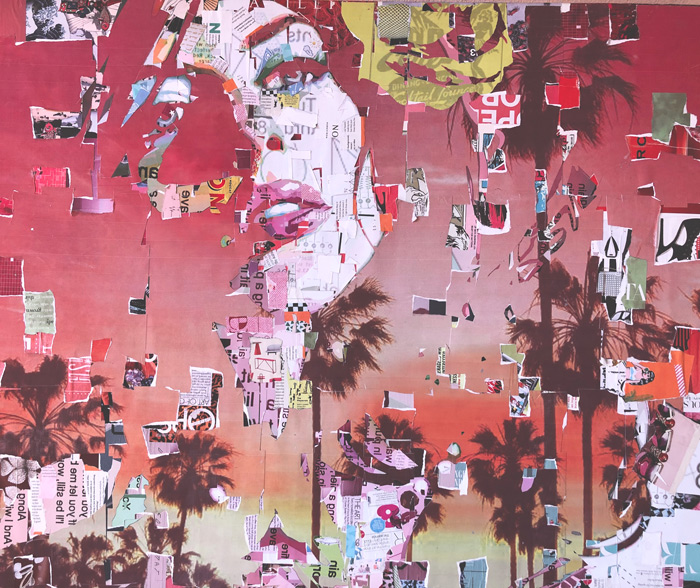 COLLAGE ON VIEW
Derek Gores
at Hotel Bel-Air in Los Angeles, California, USA
6-29 February 2020
Derek Gores is the first artist-in-residence hosted by Hotel Bel-Air. The resulting exhibition features unique and carefully selected pieces inspired by the hotel and its history. The pieces are on display throughout the hotel, and you may see the artist working during his residency, which runs from 3 to 14 February, rearranging recycled magazines, maps and more to create his Surrealist images on canvas.
Gores is best known for his unique collages where he recycles magazines, maps, data and more in his lush portraits on canvas. The balance of detail and playfulness in each piece reveals Gores' knack for discovery and for building seemingly endless puzzles into his works.
Rearranging the scraps, he is able to form a sort of Surrealist image, where from afar a nearly photo-realistic image comes into focus. However, as the viewer gets near, the small scraps reveal themselves to be other pictures, song lyrics, charts, patterns and more, and sweep your attention away down a new rabbit hole. His subjects feel both classic and modern; strong women building their own stories on the canvas, filled with the details of travel, curiosity, and luxury for all the senses.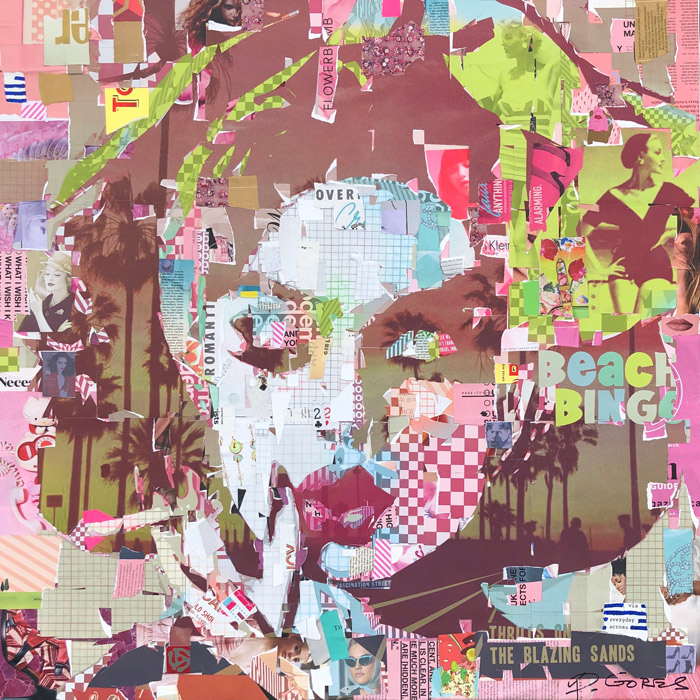 About the artist:
Gores exhibits with galleries in Los Angeles, Paris, Quebec, New England, Miami, and more. His work is considered part of the New Contemporary Movement, in a post-Internet and post-Pop art vista, allowing the real, digital, and virtual worlds to mingle. He builds on Dada and Surrealist ideas from the 20th century, especially enjoying the idea of "automatic" art and allowing chance and repetition in as part of the process. Gores' work is inclusive and inviting, partly due to the humble disposable materials, and partly due to the artist's drive to connect and let the viewer in.
(adapted from the gallery's press materials)
---
INFORMATION
Hotel Bel-Air
701 Stone Canyon Road
Los Angeles, California 90077 USA
(310) 472-1211