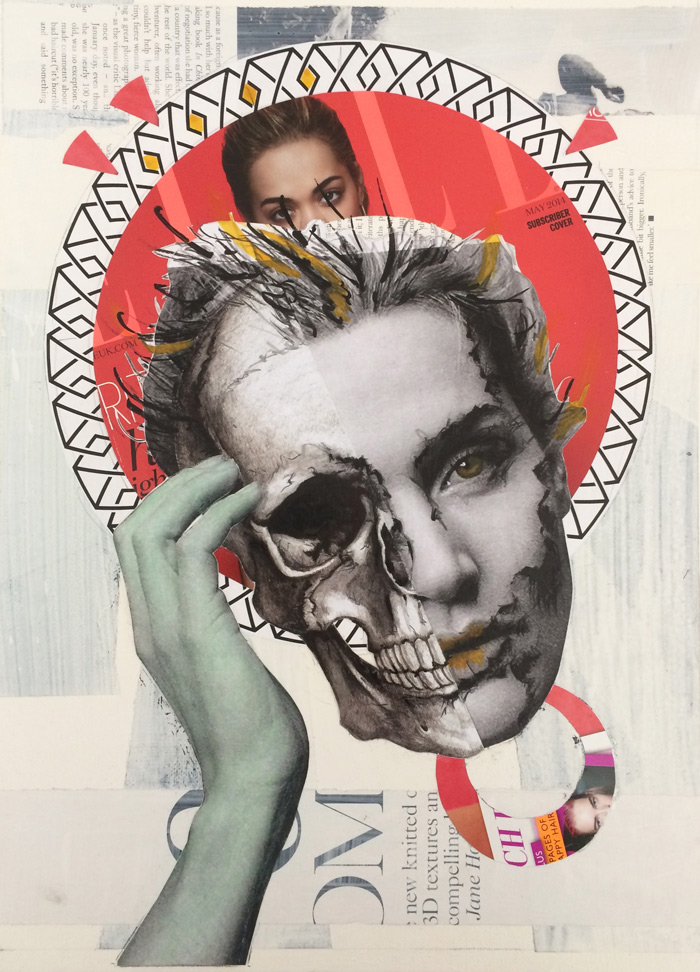 COLLAGE ON VIEW
Elementary Particles, an International Collage Exhibition
at the Frauen Museum in Wiesbaden, Germany
15 September 2019-19 January 2020
The title "elementary particles" indicates the smallest components of matter. From the perspective of theoretical physics, these are the elements that generate specific fields in bodies.
Applying this concept to collage, it turns out that this is composed of small components, cutouts or shapes, each of which may seem to be insignificant on their own, but, in the hands of an artist, join together to form a new work with new interpretive possibilities and creating unexpected stories. Based on this principle, each artist develops her own style and language.
The exhibition "Elementary Particles" features 13 international artists, their visions and their personal approach to collage. They are: Arianne Cristiel (Spain), Clare Twentymillion (United Kingdom), Eugenia Conde (Argentina) Isabel Reitemeyer (Germany), Lane (Greece), Maria Elisa Quiaro (Venezuela), Marisa Maestre (Spain), Olga Lupi (France), Olivia Descampe (France), Rhed Fawell (United Kingdom), Sabine Remy (Germany), Susan Lerner (USA) and Susanna Lakner (Hungary).
Their careers and works can be seen in this exhibition at Wiesbaden's Frauen Museum. More than 50 works show a wide variety of aesthetic approaches and directions in collage. The aim of curator and collage artist Maria Elisa Quiaro was to bring together collage artists from around the world and present the diversity of women's contemporary collage with its different approaches and techniques.
The artists explore unusual aspects of reality beyond the cultural mainstream. Each artist has her own way of approaching collage, each of them creates unique works that are polarizing and spectacular. Their contrasting approaches reveal an universe of ideas. Collage is the place where the fragments and their infinite variety relate and produce their own reading code. The exhibition invites the viewer to expand their view of collage and discover its different facets.
(text adapted from the curator's press materials)
---
INFORMATION
Frauen Museum Wiesbaden
Wörthstraße 5
65185 Wiesbaden, Germany
+44 611 308 17 63
Hours:
Wednesday-Thursday and Saturday-Sunday, Noon-5PM
Holidays, Noon-5PM