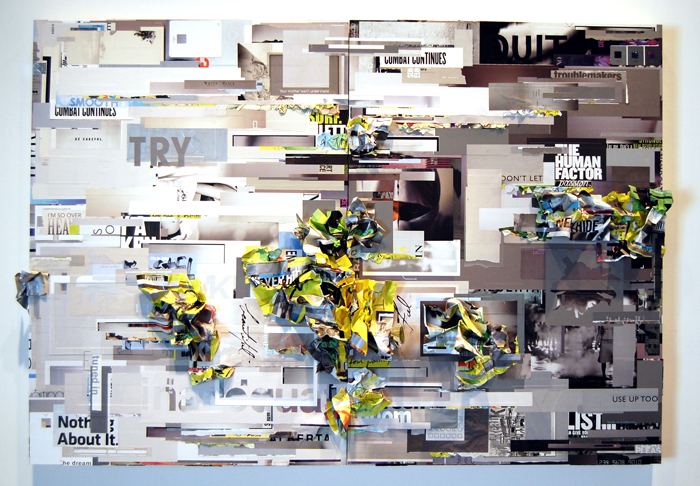 Tm Gratkowski: "Epithelia"
10 September-29 October 2016
Los Angeles-based Tm Gratkowski's "Epithelia" at Walter Maciel Gallery consists of two and three dimensional works made of collaged paper on a variety of surfaces including wood panels, heavy stock paper and moulded concrete.
The meaning of epithelia (plural for epithelium) may be simple, consisting of a single layer, or stratified, consisting of several layers, defined as "any tissue that covers a surface, or lines a cavity or the like, and that, in addition, performs any of various transporting or regulatory functions including secretion, selective absorption, protection, transcellular transport, and sensing." Gratkowski transforms these ideas in a broad interpretation presenting physical structures where constituted boundaries are crucial by virtue of defining the area between the inside and the outside. The overarching themes of the show illuminate semiotics used as visual elements to analyze and structure systems of communication. Gratkowski intermingles language, images, gesture, and color into sophisticated compositions made from a variety of high gloss, metallic, heavy stock magazine pages, posters and other found papers. The work links together words and symbols into branches of pragmatics and syntax hinting at a new visual language lurking behind what we initially see.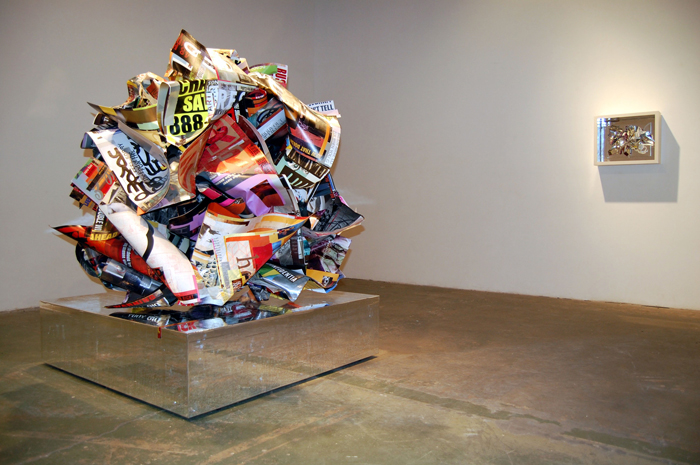 The work is in four galleries and consists of "101 Bad Words" (featuring letter cut stencils of a "standardized list of trigger words that are indicators for monitoring student's behavior administered by conservative groups to teachers in various American public schools"); a series of works using layered paper to create surface texture, palette volume, and word recognition and touching on notions of unity and equality; and various paper sculptures, including the large Paper Delirium, similar to a crumpled paper ball which employs the artist's architecture skills by constructing a central armature hidden within the form to support the weight making the sculpture appear weightless and floating over the mirrored pedestal.
Tm Gratkowski attended the School of the Art Institute of Chicago and the Hochschule für Angewandte Kunst in Vienna before receiving a BS and a BFA from the University of Wisconsin. He continued his education in Los Angeles at SCI-Arc in Los Angeles receiving an MA in Architecture. In Fall 2015, Gratkowski was included in the show Paperworks curated by Howard Fox at the Craft and Folk Art Museum in Los Angeles. His work has been included in several group exhibitions including III Bienal Cuidad Juarez at the Museo de Arte de Cuidad Jaurez, El Paso Biennial at the El Paso Museum of Art, Documenta at the New Museum of Art in Detroit, Random Acts of Time at the Orange County Center for Contemporary Art, Decorative Arts at the Worlds Fair at the Nelson-Atkins Museum of Art in Kansas City and 15th Annual Contemporary Art Exhibition at the Korean Cultural Museum in Los Angeles. Gratkowski's work has been featured in several printed and online publications including Artillery Magazine, Pulse Magazine, and Art Voices Magazine among others. His work is in the collection of many important private and corporate collections in the US including Smashbox Studios in Culver City and Loyola Marymount University School of Law in Los Angeles.
(adapted from the gallery's press materials)
---
INFORMATION
Walter Maciel Gallery
2642 South La Cienaga Boulevard
Los Angeles, California 90034 USA
(310) 839-1840
Hours:
Tuesday-Saturday, 11AM-6PM
Image: (top)
Try & Quit
by Tm Gratkowski
48″x72″x5″
diptych: paper on wood panel
2016
Courtesy of the artist
Image: (centre)
Paper Delirium (foreground)
by Tm Gratkowski
60″x48″x48″
paper on paper with Mylar on wood base
2016
Courtesy of the artist