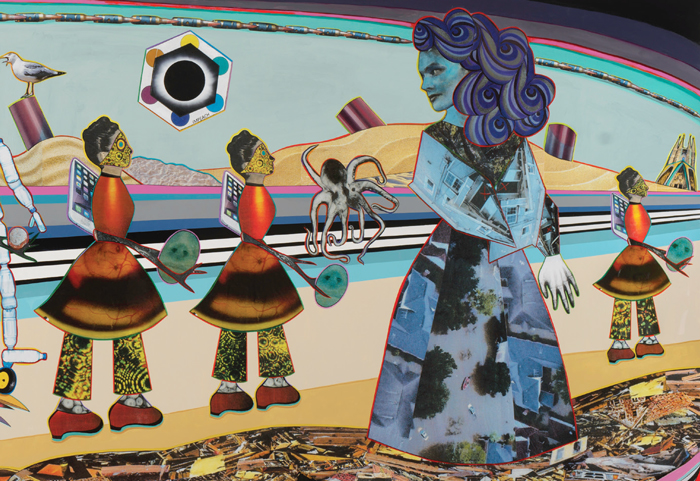 COLLAGE ON VIEW
Rhonda Wall
New Works, from the series, "Everything Happens at the Same Time" at RE:find Gallery on the Walk in Allentown, Pennsylvania, USA, 12 October-4 November 2018
About her work, Rhonda Wall says: I research and collect images, headlines, and visual phenomenon based on a specific idea and theme for a series. The images come from books, magazines, newspapers, the Internet, covers from videos, and anything else I come across that fits the concept in some way. From Women Androids, Aliens and Robots to historical figures, pop icons, scientific breakthroughs to religious symbols, advertisements from the 1960s, space exploration to political campaigns, natural disasters to greeting cards, I pick things that are particular to the situation at that moment. There is a logic to the selection process, although it may not seem apparent at first glance. A piece of collage is like a tube of paint, just another material to use. It will come down to what works formally.
Specific events, stories, inventions, and the dynamic of technology versus nature inspire and affect me–for example: the disappearance of a Malaysian airplane, the Ebola epidemic, the Eclipse, solar panels, Human Rights and IED detection. In the studio, I'm not afraid of anything. I like that things are unpredictable, like a game, a challenge.
At one point, I'll ask myself "how is this game going to end?" It just has to play itself out; I am an observer and a participant. In the end, my work has always been and continues to be about survival.

About Rhonda Wall
Wall was born in Boston, Massachusetts. She received her BFA from Rhode Island School of Design and her MFA from Vermont College. Wall has been working in a variety of media including painting, drawing, collage, prints, mixed media, installation, and performance since 1978. In the 1980s, Rhonda Wall was part of the vibrant East Village art scene in New York City, exhibiting at Sensory Evolution Gallery and B-Side Gallery.
Etty Yaniv profiled Rhonda Wall in Kolaj #19. Read more HERE
In additions, Wall's work has been reviewed and written about in The New York Times, New York Magazine, Whitehot Magazine, Blouin Art Info, ARTSINBUSHWICK, ARTFCITY, ARTNews, and Arts Magazine. Her artwork is in numerous public and private collections including The City College of New York, The Aldrich Museum of Contemporary Art, McGraw Hill, Needham Harper & Steers, Lehigh Valley Health Network, the Allentown Art Museum, the University of North Carolina, and the Keith Haring Foundation.
(Text adapted from the gallery's press materials)
---
INFORMATION
RE:find Gallery on the Walk
26 North 6th Street
Allentown, Pennsylvania 18101 USA
(610) 841-4866
Hours:
Tuesday-Saturday, 11AM-6PM
Sunday, Noon-5PM
Call (610) 841-4866 to be let in if no one is in the gallery during open hours.
Image:
Eye of the Storm
by Rhonda Wall
36″x96″
paint and collage on board
2018
Courtesy of the artist