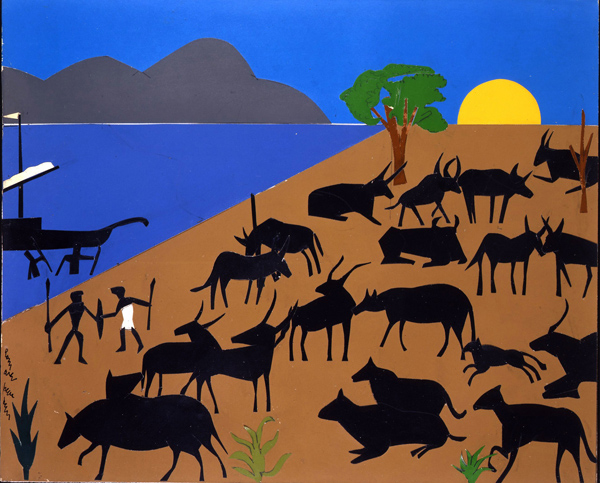 by Paul Bright
"Romare Bearden: A Black Odyssey" at Reynolda House Museum of Art in Winston-Salem, North Carolina
This currently travelling exhibition is centered on fifteen of the twenty collages that American artist Romare Bearden (1911-1988) created and showed as a group in 1977, in response to Homer's Odyssey. They are joined by a watercolour series reprising the collages, along with nine ink wash drawings from a 1946 series on the Iliad, and three other thematically-related collages.
The collages in this exhibition, with the exception of one appended piece, House in Cotton Field (1968), depart from Bearden's well-known style of dada and cubist-inflected photo-montages. The "Odyssey" works vary in size and format from about 12 x 14 to 36 x 48 inches, employing mostly flat, unmodulated cut sections of paper, adhered in layers, with occasional inclusions of graphite or paint. In shape and scale, the paper elements range from broad and generalized to minute and descriptive. The watercolours fill the void left by the absence of five of the collages, but they lack the tension between actual, layered surface and depiction which makes the collages so satisfying.
One of the delights of a successful collage is the way material layering functions both as manifestation of, and metaphor for, strata of many kinds. Bearden accesses and reveals many layers in these works: cultural, aesthetic, and temporal. His approach and palette are reminiscent of Matisse's cutout series "Jazz," and I had a wonderful "conceptual collage" moment; viewing the work of an African American responding to a Mediterranean myth while also paying homage to a white European artist who was, in turn, inspired by the energy and vitality of a hybrid African-American musical form (and after having made his own attempt at interpreting Homer through the lens of James Joyce's Ulysses)!
These are collages in a resonant sense, referring to other "collages" all the way back Homer, who, in writing the Odyssey, was likely collating age-old myths.
Matisse certainly swims with Bearden in the quasi-abstract and virtuosic swirls of The Sea Nymph, while physical spontaneity and assurance are abundantly evident in the generously-scaled Poseidon, the Sea God-Enemy of Odysseus, where Bearden depicts him like a surly Benin king. The figures in Circe Turns a Companion of Odysseus into a Swine recall those on Greek black-figure ceramics (Bearden riffs on blackness, and uses "black" figures throughout these works), while the scale-shifts and the radically flattened space recall aspects of Trecento painting.
Bearden's "Odysseus Series" collages posit the Greek's travails as layered and metaphoric, emphasizing their universality as images from a narrative of eternal returns.
This exhibition was organized by SITES/the Smithsonian Institution, in cooperation with the Romare Bearden Foundation and Estate, and DC Moore Gallery. Catalog available.
"Romare Bearden: A Black Odyssey" is traveling around the United States, 2012-2014, on the following schedule:
13 October 2012-13 January 2013:  Reynolda House, Winston-Salem, North Carolina
2 February-28 April 2013: Memphis Brooks Museum of Art, Memphis, Tennessee
18 May-11 August 2013: Amon Carter Museum of American Art, Fort Worth, Texas
31 August-24 November 2013: Chazen Museum of Art, University of Wisconsin, Madison, Wisconsin
14 December 2013-9 March 2014: Michael C. Carlos Museum, Emory University, Atlanta, Georgia
29 March-22 June 2014: Currier Museum of Art, Manchester, New Hampshire
12 July-5 October 2014: Wallach Art Gallery, Columbia University, New York, New York
This Exhibition Review originally appeared in Issue Three. To see other Reviews from the world of collage, SUBSCRIBE to Kolaj or  PURCHASE ISSUE THREE.
Image:
Cattle of the Sun God
by Romare Bearden
Collage
1977
Courtesy Ann and Sheldon Vogel