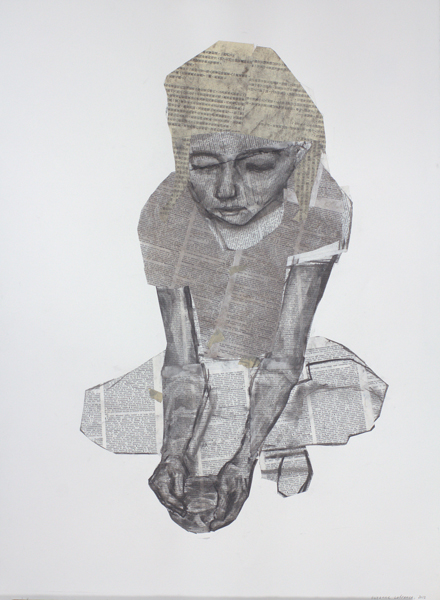 7 February – 3 March 2013
Opening Reception: Thursday, 7 February, 6PM
Suzanne Lafrance and Stéphanie Morissette open at Galerie Dominique Bouffard in Montreal in February. Lafrance's work is of particular interest to those who follow collage. She creates characters by combining charcoal drawings and pages cut from books. The effect is a dialogue between language and figure. The show is called "Dans la proximité des ombres" (in the nearness of shadows).
In her recent pictorial research, Suzanne Lafrance found inspiration in German philosopher Martin Heidegger's dictum: "Language is the house of being. In its home man dwells." All of her drawings (charcoal and collage on paper) present the body and the human figure in close connection to language. Language envelops, dresses, caps, sculpts, arms, and constitutes the characters. Pages have been cut out of a dictionary and a book about Chinese literature, and then mounted on the artist's drawings and amalgamated with them. However, if words are physically present in the works of Suzanne Lafrance, language also finds expression in her characters' sometimes furtive looks, the position of their bodies or hand gestures suggesting various states of mind.
On the other hand, if an attack on language is tantamount to an attack on a being, Stéphanie Morissette's work specifically highlights the perils and consequences of misunderstandings or confusion in our exchanges with others. Her works refer to current topics with a certain lightheartedness, thanks to a somewhat naïve esthetic that often contrasts with the issue being tackled. Inspired by what she perceives in her environment and the media, she gives us a set of portraits of society, moved by the obsessions that draw her towards historical or current events that affect us all, be they near or far.
About the artists:
Suzanne Lafrance holds a BFA (1994) from Université de Montréal, where she also studied anthropology at the Master's level (1998), and is currently studying philosophy. She has been showing her work since 2005, gaining recognition from her peers through several awards and grants since 2008. Also a writer and poet, she was a semi-finalist in Radio-Canada's 2012 Prix Poésie competition.
Holding a BFA in art history and studio arts from Concordia University (1999) and a DESS in international cooperation in the arts (2002), Stéphanie Morissette has been involved in several arts organizations and festivals. A multidisciplinary artist, she has taken part in artist residencies in Banff, Alberta; Iceland; and Finland. Her work has been shown in several countries (Finland, England, Poland, Spain, USA, Belgium), most notably at the 10th Istanbul Biennial of Contemporary Art.
(from the gallery's press materials)
---
INFORMATION
Galerie Dominique Bouffard
1000 Amherst Street, Suite 101
Montreal, Quebec  H2L 3K5
Canada
(514) 678-7054
Hours:
Wednesday to Friday, 10AM-6PM
Saturday and Sunday, Noon-5PM
Image:
Ouverture II
by Suzanne Lafrance
30″x22″
charcoal and collage on paper glued on paper
2012