COLLAGE ON VIEW
Fertile Ground: Barbara Gibson & Mark Murphy
at Argentea Gallery in Birmingham, England, United Kingdom
10 January-9 February 2019
"Fertile Ground" presents the work of Barbara Gibson and Mark Murphy, whose practices are centred around collage and whose work is being shown alongside each other. All pieces on display are original works and available to purchase.
Barbara Gibson uses vintage images from mid-twentieth century magazines to create socially engaged pieces that reflect upon gender issues. Her work can be read as a non-narrative celebration of historical female inconography or as insightful observations around a woman's role in modern society. The female body in all of its guises is a key feature of her work, an allusion used to endorse the idea of progressive women subverting deep-rooted expectations.
Gibson is a graphic designer, who moved to the United Kingdom in 2014 and started working through the medium of collage just two years ago. She explains, "Collage is a tremendously exciting medium to work through. I've always had an interest in historic photography and, through collage, I can bring a new lease of life to works which were perhaps overlooked when they were originally published. This new collection of work represents a new approach for me and reflects the journey I am on as an artist."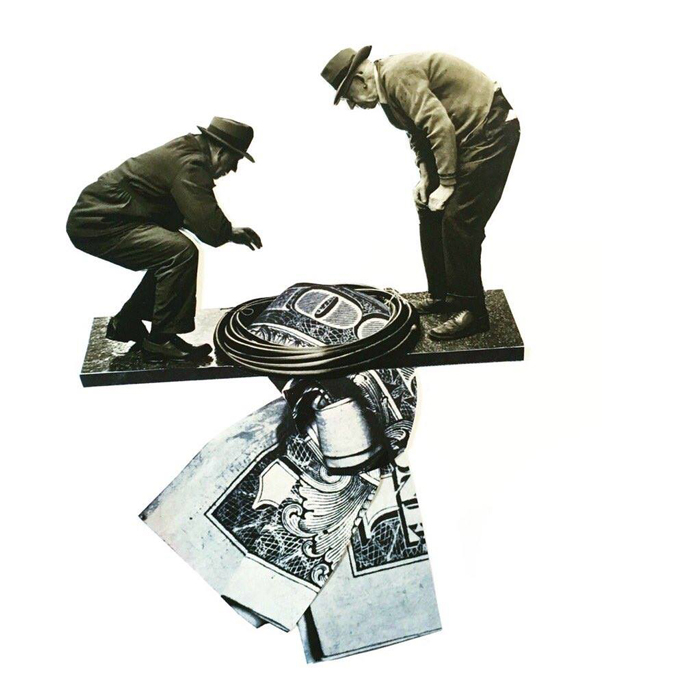 Alongside his established graphic design practice, Mark Murphy plays with scale and form to produce simple, surreal hand-cut paper collage pieces. Appropriating pictures from books and magazines from the past 60 years, his work reflects up modern culture by literally slicing apart its imagery and reassembling it into striking, disjointed combinations. Based on random associations of discordant images, his compositions can be humorous, uncanny, political and thought provoking. For example, the playful image For that moment at least, everything balanced precariously on the prospect of big bucks… also functions as a social commentary on economic inequality.
Murphy comments, "Collage as a medium has such definite parameters and is so completely analogue, there is a rawness that's quite the antithesis to the digital tools of contemporary graphic design. I love working within these limitations. I feel a bit like a hunter gatherer seeking out old print that intrigues me, then seeing how it can be altered, combined and recycled into completely new works."
(Text adapted from the venue's press materials)
---
INFORMATION
Argentea Gallery
28 St. Paul's Square
Birmingham B3 1RB, United Kingdom
+44 121 236 5444
Hours:
Tuesday-Saturday, Noon-6PM
Images (top to bottom):
Be a Vision by Barbara Gibson
For that moment at least, everything balanced precariously on the prospect of big bucks…by Mark Murphy
Images courtesy of Argentea Gallery, Birmingham