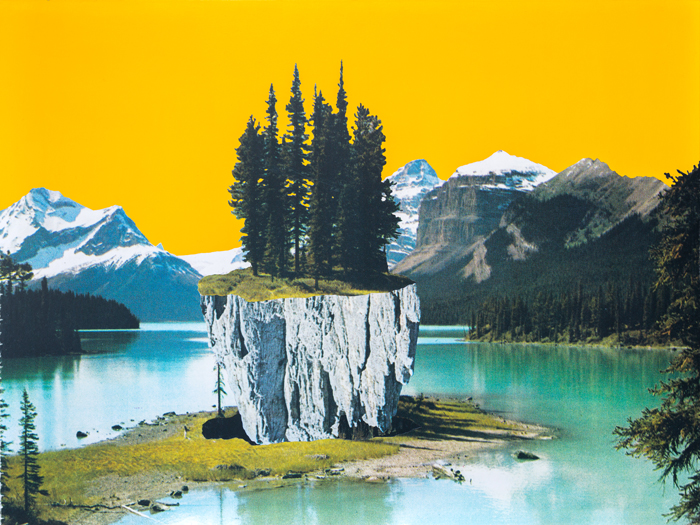 COLLAGE ON VIEW
Petit peur sur la ville: Guillaume Chiron
at Château de Bressuire in Bressuire, France
18 January-10 February 2019
A native of Bressuire, Guillaume Chiron was first known by his music, as a guitarist for the band Microfilm from 2003 to 2013. He also created their album covers and concert videos. Since 2013, he has dedicated himself exclusively to collage. He has published two books of collage work, including Mangez le banane parlez debout (2015, which was reviewed in Kolaj #15) and Coupez décalez (2017, which was reviewed in Kolaj #22. Several exhibitions in France (Paris, Poitiers, Reims and Toulouse) presented his collage to a wider public. At the request of several artists, he has also produced artwork and album covers for musicias and bands including Malik Djoudi and Forever Pavot.
Guillaume Chiron combines reality with unreal, known with the unknown. First, he deconstructs multiple samples of images produced and made available by the cultural industry. Then, he rebuilds and projects a new world, selecting and bringing together some of these fragments. Sometimes, chance comes into play and magic happens. The cracks and the outlook are coming together. New scenes appear, funny or incongruous, strange and reflective.
More than under the influence of the avant-garde, Chiron produced many of his supernatural images under the influence of 1950s and 1960s cinema. By making his characters the size of companion animals, by giving life to the giants that dominate vast spaces, one is of course is reminded of The Incredible Shrinking Man or The Amazing Colossal Man. Chiron plays with the waist and the monstrous. There is an obvious attachment to staging, intuitive special effects and handicrafts. It is easy to understand why most of Chiron's sources are ostensibly vintage. Even in their respective contexts, the materials used naturally exert their evolutionary power. They urge the spectator to experience space and time without question.
(Text adapted from the artist's press materials)
---
INFORMATION
Château de Bressiure
79300 Bressiure, France
+33 5 49 65 10
Hours:
Saturday-Sunday, 2:30-6:30PM
Image:
Extrusion collage
by Guillaume Chiron
35.4″x47″
collage, paint, epoxy resin
2018
Courtesy of the artist