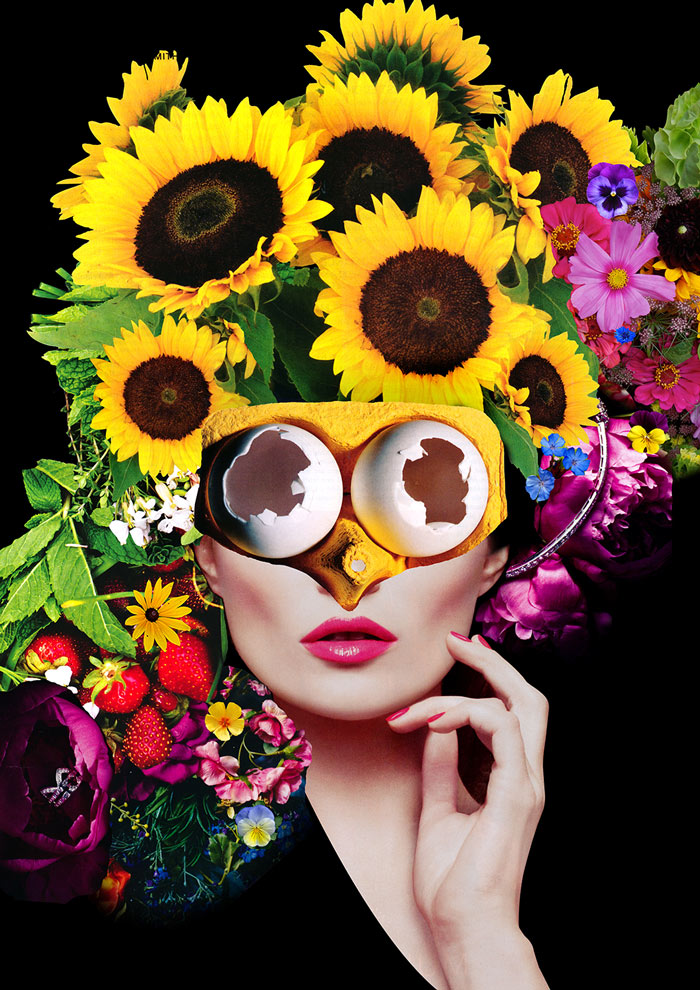 COLLAGE ON VIEW
Gone Rogue Montage
at the Marconi Gallery in the ME Hotel, London, United Kingdom
27 March-10 May 2019
"Gone Rogue Montage" features work by Collagism, Bonnie and Clyde, Victoria Topping, Maria Rivans, and Fei Alexeli.
Collagism, aka Holly-Anne Buck, is an Australian artist living and practicing in London, United Kingdom. She completed her Bachelor of Multimedia at RMIT in 2004. Her multidisciplinary work has been shown widely around the world. Buck relocated to London, UK in 2011 in order to focus on her career as a solo and exhibiting artist. Since then she has created Collagism as a vehicle to explore collage and further her quest to collage the universe. Collagism was an active campaigner for the release of Pussy Riot with her street art campaign of hacked Vogue covers appearing across London. In 2013, she held a 6-month residency at The Vestibule Gallery on Redchurch Street, featuring six exhibitions, it was an evolving experiment in collage of all dimensions.
Bonnie and Clyde is a contemporary British artist, whose mixed media collage and print-work centres around scenes of the urban imaginary. Crossing medium and type, Bonnie and Clyde's work takes the form of screen-prints, large-scale originals on paper and wood, as well as 3D installation pieces. Employing a blend of photography, collage and paint, the emotive art of Bonnie and Clyde explores the psychogeography of the metropolis, immersing the viewer in beautiful and bizarre cityscapes.
Victoria Topping has as an artist and illustrator since graduating with a BA in Illustration in 2008. Her pieces are created through building up multiple textures and images and combining these to develop a distinct visual language, using recurring motifs. I work using a fusion of technology and traditional techniques, often using photography, painting, gold-leafing and cut up collage which is then digitally scanned and arranged on the computer, before I work back in to the resulting digital print.
Maria Rivans is a contemporary British artist, known for her mash-up of Surrealism meets Pop-Art aesthetic. With its unique approach to collaging, her artwork intertwines fragments of vintage ephemera, often with reference to film and TV, to spin bizarre and dreamlike tales. Her work takes the form of large-scale originals and limited edition prints. Notable series have included: Pin-ups, Landscapes, Film Stills and 3D Box Collages.
Collagist, illustrator and photographer Fei Alexeli is represented by galleries in Australia and the United Kingdom. She has created murals in Brooklyn, New York and her work has been shown at art fairs in Europe and the United States.
(text adapted from the artists' press materials)
---
INFORMATION
Marconi Gallery
ME Hotel
336-337 Strand
London WC2 1HR, United Kingdom
EMAIL
Hours:
Contact the ME Hotel for current hours
+44 (0)20 7395 3400
Image:
Full Bloom
by Collagism
46.8″x33″
analogue and digital collage
Canson Aquarelle giclée print
Edition of 5
2015
Courtesy of the artist