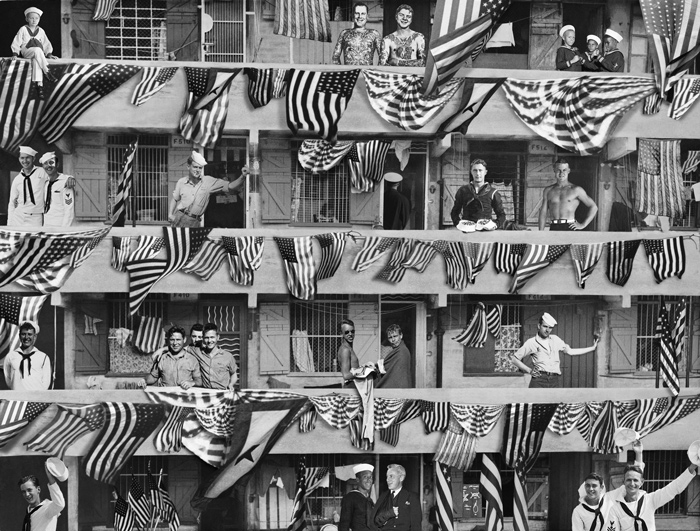 27 June-2 August 2013
Galerie Lelong's New York location's "Summer Exposure" presents photographic works by 12 gallery artists who examine the function of a photograph to document or construct. The works explore themes of political and social injustice, identity, and contemporary conflicts between man and nature. The exhibition features straight and manipulated photographs, many of which have rarely been exhibited, in a range of formats including silver gelatin prints, C-prints, light boxes, mixed media, and collage. Several artists are not immediately associated with photography, yet the selected works mark an important facet of their oeuvres.
Among the artists, several manipulate their photographs through complex processes that are not easily discerned. Jane Hammond's seemingly vintage silver gelatin prints are actually contemporary collages, built narratives that convey the fluidity of an image's meaning.
The exhibition was inspired by Alfredo Jaar's current representation of Chile in the 55th Venice Biennale. As is true for many of the works in Summer Exposure, Jaar's Double Vision (2005) is an exercise in seeing. Jaar examines the dichotomy between the authority of images and their inability to fully convey the events they depict. Double Vision portrays children playing on a beach, with signs of Angola's oil wealth in the background. The mirrored effect of the image highlights the disparity between the extraordinary wealth of the elite and the lack of significant health and social programs for the country's struggling citizens.
Other artists in the exhibition include: Petah Coyne, Andy Goldsworthy, Alfredo Jaar, Rosemary Laing, Lin Tianmiao, Susan Meiselas, Ana Mendieta, Hélio Oiticica and Neville D'Almeida, Jaume Plensa, Krzysztof Wodiczko, Catherine Yass
---
INFORMATION
Galerie Lelong
528 West 26th Street
New York, New York 10001 USA
(212) 315-0470
Hours:
1 July-2 August: Monday-Friday, 10AM-5PM
5 August-5 September: By appointment only
6 September-30 June: Tuesday-Saturday, 10AM-6PM
Image:
Chai Wan Five
by Jane Hammond
11″x14″
selenium toned silver gelatin print
2011, Edition of 5
Copyright of the Artist, Courtesy of Galerie Lelong, New York