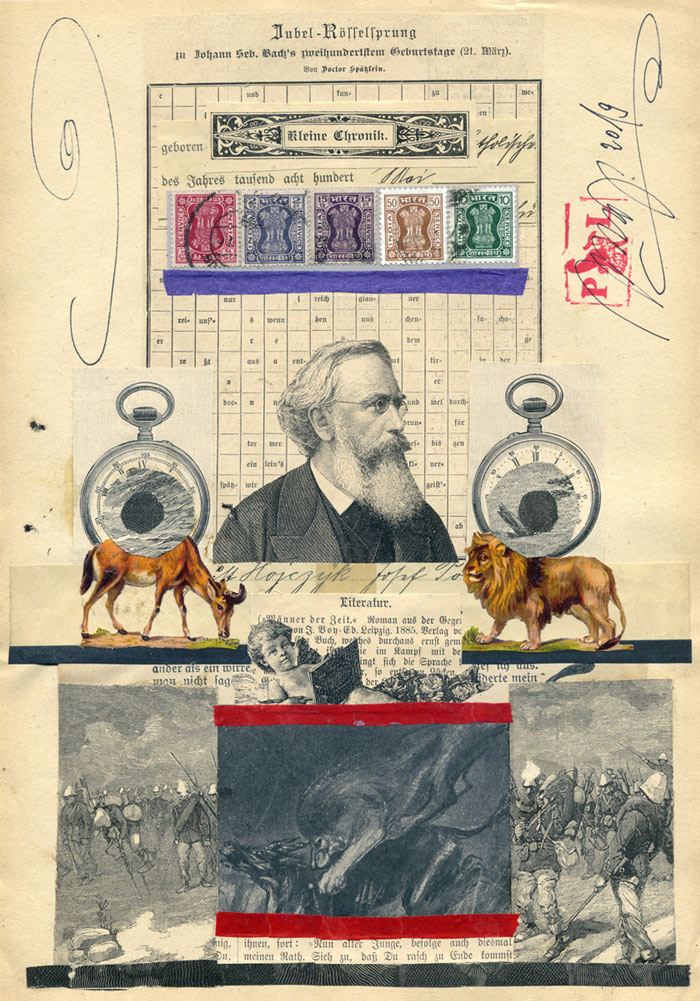 COLLAGE ON VIEW
International Collage Art Exhibition
at Retroavangarda Gallery in Warsaw, Poland
12 April-15 June 2019
Retroavangarda's exhibition of international collage art surveys the most interesting and recent accomplishments in the field and, at the same time, is one of the largest collage expositions in Europe in recent years. The exhibition showcases over 200 original, handmade pieces crafted by masters of collage around the world, including Japan, Argentina, Bolivia, Guatemala, Brazil, Peru, Canada, USA, Greece, Spain, Italy, France, Great Britain, Austria, Belgium, the Netherlands, Germany, Poland and more.
In recent years, collage has become very popular, not only as editorial illustration, but also as a work of art on its own. The exhibition shows how difficult this technique is, what are its types and how wide spectrum of artistic solutions can be achieved with it. It also provides an opportunity to compare the development of contemporary collage art in different countries and to see how cultural differences can influence its form.
The exhibition is organized under the honorary patronage of the embassies to Poland of Argentina, Brazil and Peru.
Curator Anna Kłos is an academic lecturer, who wrote her PhD thesis about collage. The exhibition was organized by Retroavangarda and WIT-Szkoła Wyższa pod auspicjami PAN, Apollo Rida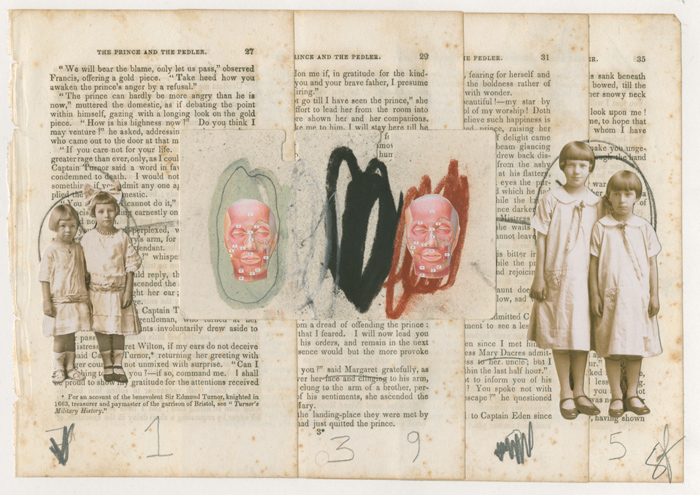 Artists participating in the exhibition:
Marcia Albuquerque | Tom Amoretti | Barrakuz | Allan Bealy | Walter Brovia | Andrea Burgay | Marta Caban | Angela Caporaso | Jérôme Cavailles | Adriana Cilloniz | Da Collages | Robin Colodzin | Tomasz Damm | Maks Dannecker | Demetrio Di Grado | Claire Dinsmore | John Andrew Dixon | Cinzia Farina | Rhed Fawell | Antonio Martin Ferrand | Geronimo Finn | Louis Fishauf | Stefan Fuchs | Antagonica Furry | Sandra Gea | Barbara Gibson | Radek Grabowski | Emilia Gutiérrez | William Hemmerdinger | Angela Holland | Aram Huerta | Marta Ignerska | Sacha Itchi | Gene Johnson | Ryszard Kaja | Kaja Kant | Kamil Emanuel Klonowski | Anna Kłos | Grzegorz Kozera | Anna Krejbich | Marcin Królewicz | Peter Krsak | Lucyna Krzywik | Rafał Kucharczuk | Allen Ladd | Leo Litha | Petra Lorenz | Olga Lupi | Dorothee Mesander | Dariusz Mlącki | Sibylle Möndel | Marcos Montenegro | Koji Nagai | Sergey Nehaev | Joey Patrick | Veronica Penagos | Pep Quer | Maria Elisa Quiaro | Sabine Remy | Daniel Rodriguez | Ewa Rosłoniec-Czobodzińska | Mauricio Panel Rossiello | Alvaro Sanchez | Catarina Santos | Jonathan Sirit | Nikki Soppelsa | Pere Sousa | Michael Stephens | Karina Suarez | Magda Tertelis | Patrizia Tictac | Ankie van Dijk | Sara Vattano | Tania Verhasselt | Pola Vesper | John Washington | Andrzej Wieteszka
(text adapted from the gallery's press materials)
---
INFORMATION
Galeria Retroavangarda
Jerozolimskie Business Park
Aleje Jerozolimskie 146D
02–305 Warsaw, Poland
EMAIL
Hours:
Tuesday-Friday, 11AM-7PM
Images: top to bottom
untitled collage by Petra Lorenz (Germany)
untitled collage by Alvaro Sanchez (Guatemala)
Image courtesy of the artists