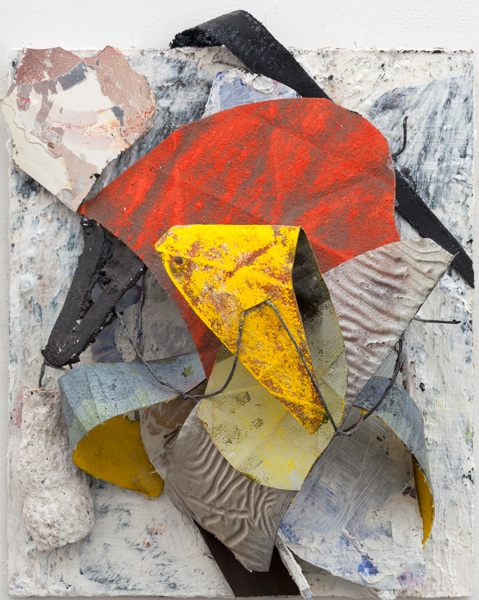 26 May 2013-7 April 2014
MASS MoCA presents a selection of work made between 2010 and 2013 by New York-based collage/assemblage artist and painter, Joseph Montgomery. This is Montgomery's first solo exhibition.
Montgomery creates compact abstract assemblages (many measuring only 12″x10″) which have an uncanny familiarity. The small paintings vibrate with texture and movement and bursts of colour amidst a mostly subdued and earthy palette. Despite their small size, the works have an intense visual and visceral impact – made from an array of elements which curve up, out, and beyond the confines of the support. Montgomery builds his layered images with a range of materials –a base vocabulary of sorts — including wood, clay, cardboard, fiberglass, paper, and wire. These elements take on the appearance of painterly gesture, each functioning like a brushstroke. The earliest of these works developed from the artist's attempts to veil or destroy paintings which he found too earnest or too personal. These rejected works become a support for his subsequent collages and are at times cannibalized as material fragments in newer works. Often compared to the collages of Kurt Schwitters, the constructions are indeed influenced by an early twentieth century approach to abstraction exemplified by the likes of Schwitters, Ben Nicholson, and the Constructivists, among others. Though Montgomery is deeply engaged in a discourse with the history and future of painting, his works, like those of his aforementioned predecessors, adapt materials or modes of making associated with building and architecture. Given their size and their materials, the works share characteristics with architectural models. Like such studies, they are images of potential, and seem to move back and forth between different scales, functioning on an intimate level while hinting at the monumental. Small and portable, they also have the air of devotional objects.
Born in Northampton, Massachusetts, in 1979, Montgomery earned his BA at Yale University in 2001 and an MFA from Hunter College in 2007. Since receiving his degrees, the artist's work has been presented in Basel, Switzerland, Antwerp, and Milan. In February 2013 his work will be featured in Painter, Painter at the Walker Art Center, Minneapolis. Montgomery currently lives and works in New York.
(from the museum's press materials)
This News and Notes item originally appeared in Issue Four. To see other News and Notes from the world of collage, SUBSCRIBE to Kolaj or PURCHASE ISSUE FOUR.
---
INFORMATION
Massachusetts Museum of Contemporary Art (MASS MoCA)
87 Marshall Street
North Adams, Massachusetts 02147 USA
(413) 662-2111
Hours:
Fall/Winter/Spring: Wednesday-Monday, 11AM-5PM
Summer: Sunday-Saturday, 10AM-6PM
Image:
Image One Hundred Forty-Seven
by Joseph Montgomery
12.75″x10.125″x5.25″
canvas, clay, lacquer, oil, paper, pastel, resin, sponge, steel wire, and wax on plastic panel
2012
Courtesy the artist and Laurel Gitlen, New York