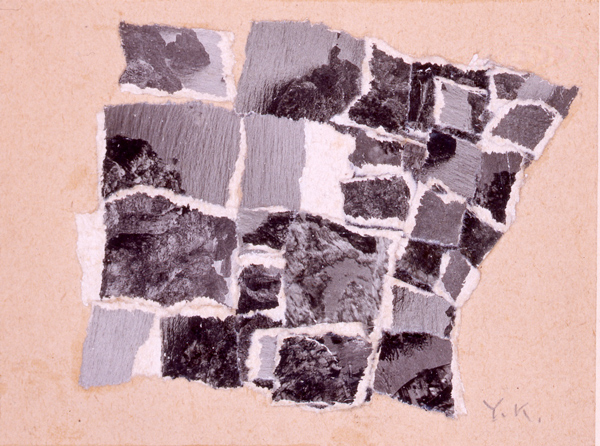 6 April-9 June 2013
Yuki Katsura: "A Fable" at the Museum of Contemporary Art Tokyo
Yuki Katsura (1913-1991) was a pioneer among women artists. She had a solo exhibition of collage works in 1935. Her career of 60 years bridged the pre- and post-war periods. This exhibition, the first comprehensive survey of her work, is held in her native Tokyo to commemorate the centennial of her birth.
Katsura's methodology of simultaneously pursuing tactile sensations in cork and fabric collages, detailed delineation in oils, and caricaturistic depiction caught the attention of Shuzo Takiguchi and Fujita Tsuguharu before the war as manifesting a highly distinctive approach to painting. Following the war, by applying her penetrating eye for society and people to allegorical depiction, she produced richly humorous works that encourage interpretations on multiple levels. Katsura continually fostered her own objectivity through travels and books, and her work is permeated throughout by multifaceted observation, cognizant of both the avant-garde and the everyday, critical analysis and laughter, and Japanese folk elements and the universal perspectives of the modern West. By slightly manipulating our perspective—viewing a fable's main character from the standpoint of its supporting character, for example, or rotating her completed painting 90 degrees or enveloping her subject in a membrane-like wrapping—she moves us to look anew at all we had taken for granted.
This exhibition presents Yuki Katsura's artistic world—which commutes freely across the boundaries between human beings, creatures, and objects by means of allegorical depiction—through her foremost paintings and also numerous never-before-exhibited artworks, book covers, and illustrations. It endeavors to show, from varying angles, the significance of her work as art fostered in a different context from the Western avant-garde. Katsura's art, which developed within the complete freedom of her thinking and attitudes, startles and awakens us to the joy of discovering the world around us from new perspectives.
(from the museum's press materials)
---
INFORMATION
Museum of Contemporary Art Tokyo (MOT)
4-1-1 Miyoshi, Koto-ku
Tokyo 135-0022, Japan
81 (3) 5245-4111
Hours:
Tuesday-Sunday: 10AM-6PM
Image:
untitled
by Yuki Katsura
photographs on paper
1930
Collection of The World Children's Art Museum, Okazaki, Japan