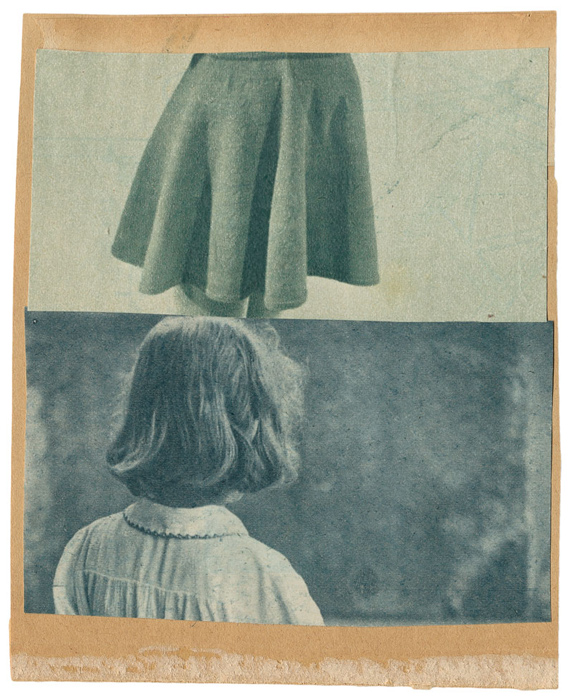 23 April-23 May 2015
Opening reception: Thursday, 23 April, 6PM
Closing reception: Saturday, 23 May, 6PM
Katrien De Blauwer: "Jouez avec elle"
Emotions have always been the driving force and main consideration in the work of Katrien De Blauwer. She is strongly drawn to the uncomfortable in human emotion: pain, sorrow, loss, desire. It's about life and death, what we are, what we signify, how we are loved.
De Blauwer collects and re-uses pictures and supports from old magazines and papers, engaging them in a vision that occurs directly in the hand, thus becoming more physical and tactile. She gives new meaning and life to what is residual, saving the images from destruction and including them in a new narration that combines intimacy and anonymity. Hers is therefore a work about memory, although never by a process of accumulation, but by way of subtraction. De Blauwer's work calls to mind the techniques of photomontage or film editing, using the cut as border or frame that determines what is visible and essential.
Katrien De Blauwer (1969) was born in Ronse, Belgium in 1969 and she currently lives and works in Antwerp. She started her first collages in 1993 and she has never stopped since. Her work has been published in The New York Times (USA), Conscientious Photo Magazine (USA), Chronicle Books (USA), EIN Magazine (China), Unflop Magazine (Italy), The Age of Collage (Gestalten, Germany), and Kolaj Magazine (Canada).
(adapted from the gallery's press materials)
---
INFORMATION
Tique Art Space
Korte Vlierstraat 5
2000 Antwerp, Belgium
+32 (0)478 977 000
Hours:
Thursday-Saturday, 2-6PM
Image:
untitled from "Scenes"
by Katrien De Blauwer
collage
Courtesy of the artist and Tique Art Space, Antwerp