Kolaj Magazine is a quarterly, printed magazine about contemporary collage. We are interested in how collage is made, how collage is exhibited, and how collage is collected. We are interested in the role collage plays in contemporary visual culture. We provide quality exposure for contemporary collage art. Kolaj Magazine is published in Montreal, Quebec by Maison Kasini.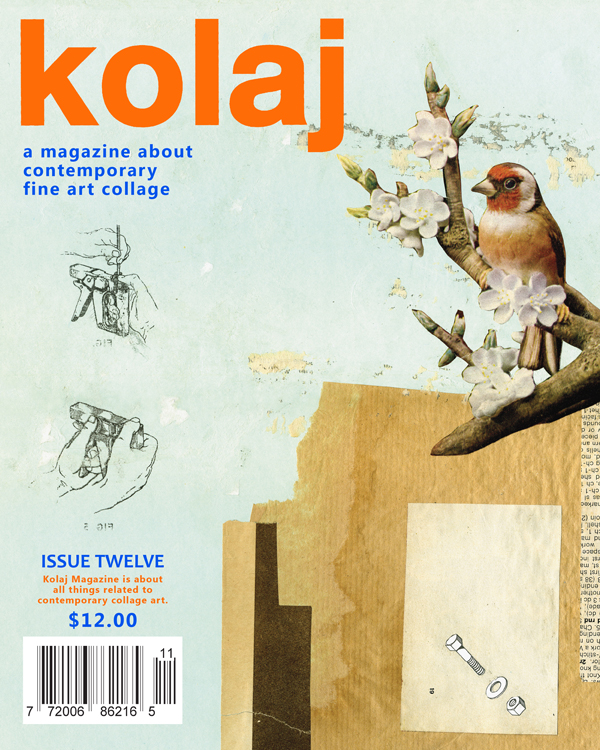 IN THIS ISSUE:
Two collages by Kareem Rizk grace the cover of Issue 12: On the front, Instructions (2006) and, on the back, Model Aeroplane (No. 4) (2011).
Ric Kasini Kadour's Editorial asks the question "What Good Is Collage?"
In News & Notes, the Collagistas Festival 2 happens in May in Greece. We report on Tanya St-Pierre's collage series at The Rooms in St. John's, Newfoundland & Labrador. We remember the late American collage artist Rex Ray. The Denver Collage Club's inaugural exhibition was up in April & May at The Robert Anderson Gallery.
Luigi Galimberti Faussone explores urban landscapes as acts of collage through the work of Brazilian artist Bel Failleiros, Canadian artist Larissa Fassler, and Korean artist Junebum Park.
Ben Depelteau interviews Australian-born, Denmark-based collage artist Kareem Rizk about his success as a working collage artist.
Polish artist Justyna Kabala sees collage as a technique rather than a medium. Kimberly Musial Datchuk finds out why.
Kevin Sampsell profiles Portland, Oregon-based Kurtiss Lofstrom, whose "scavenger-style" collage is torn, rather than cut.
Ashley Bryan makes collage on a small island off the coast of Maine. His children's book, Beautiful Blackbird, won the 2004 Coretta Scott King Award for Illustration. Daniel Kany tells us more about Bryan and his work.
Ariane Fairlie reviews Jean-Michel Basquiat's "Now's the Time" at the Art Gallery of Ontario.
We review Diane Schomperlen's collage book, By the Book; Zach Collins, Mister Koppa et al.'s artist book, Monster Trust; Michael Ziobrowski and Justin Angelos' catalogue CUTPASTE 2; and Ewan Aparicio's collage 'zine Nothing/Forever.
Artist portfolios from Little Rock, Arkansas; Montreal, Quebec; Pacific Palisades, California; Orlando, Florida; and Shawinigan, Quebec.
And as always, a new Cut-Out Page and Artist Directory.
SUBSCRIBE OR ORDER AN ISSUE

CANADA
(Canadian dollars)