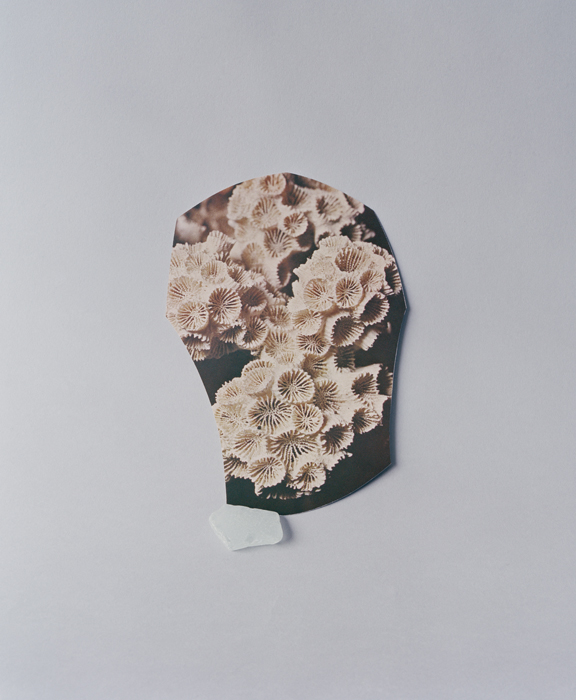 "Les Figures": Celia Perrin Sidarous
14 January-13 February 2016
Celia Perrin Sidarous presents a selection of photographs engaging with the enigmatic lives of objects through processes of collection and display, and the mechanisms of time and memory. Significant to Perrin Sidarous' practice is the assemblage. Her images are the sites of dynamic juxtapositions and discrete repetitions. Objects such as seashells, fabrics, marble, cut outs, mirrors and ruins are arranged in a logic that at once signals inwards as well as pulsates out associatively—extending to other objects, to the space of the studio, to that of the image and to the place of exhibition.
In certain ways, the items Perrin Sidarous pictures perform as points of entry into various areas throughout her entire body of work, a network of inconspicuous portals with no discernable ends. A mirror in one image may lead the viewer to a number of other photographs via the power of association. These unsystematic, irregular reiterations are further externalized to the gallery, particularly in the shape of sculptural forms intervening within physical space, ultimately mediating its relationship with image. In other words, in Perrin Sidarous' installations, images are treated as possessing a spatial dimension and physical space is conceived of virtually, as image.
Perrin Sidarous completed an MFA at Concordia University, with a concentration in photography. Her work has been exhibited in both solo and group exhibitions at the Dunlop Art Gallery (Regina, Saskatchewan), the Leonard & Bina Ellen Art Gallery (Montreal), the Banff Centre (Banff, Alberta), FOFA Gallery (Montreal) and VU (Quebec City). The artist's images have been published in periodicals in Canada and abroad. In 2015 Perrin Sidarous was selected as an invited artist in residence at the Darling Foundry (Montreal). Her works are part of important corporate and private collections, as well as institutional collections such as the Art Gallery of Ontario.
(text adapted from the gallery's press materials)
---
INFORMATION
Parisian Laundry
3550 Saint Antoine Street West
Montreal, Quebec H4C 1A9 Canada
(514) 989-1056
Hours:
Tuesday-Saturday, Noon-5PM
Image:
Coral & Sea Glass
by Celia Perrin Sidarous
40″x33″
inkjet print on matte paper
2015
Image courtesy of Parisian Laundry.