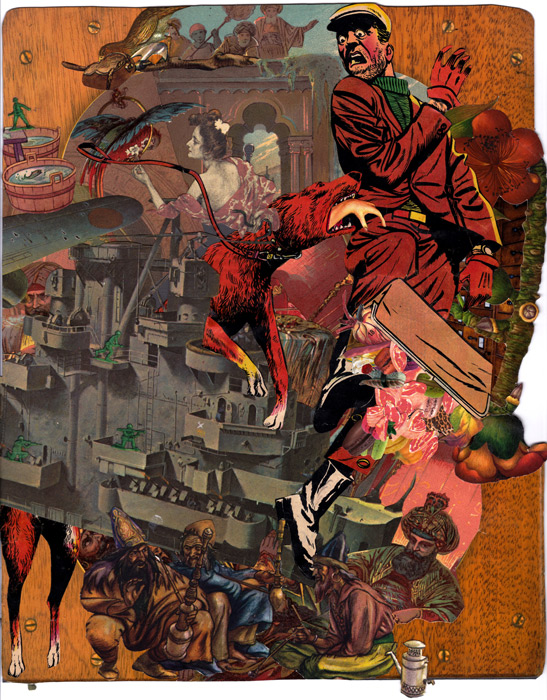 Inas Al-soqi at Artrooms 2016
23-25 January 2016
American collage artist Inas Al-soqi was selected as a special guest artist at Artrooms 2016 in London. Al-soqi is one of 70 artists from around the world chosen to exhibit, from a pool of of 687 applicants.
Inas Al-soqi, originally from Romania, is a visual artist working with hand-cut collage, printmaking, drawing and painting. Al-soqi holds a BFA in Fine Arts and Art History from Tufts University and The School of the Museum of Fine Arts Boston and an MA in Art Business from The Sotheby's Institute of Art New York. Al-soqi's collages have been exhibited in the United States, Italy, Romania, Morocco, The Netherlands, the United Kingdom, Canada and Finland. In her collage work, she plays with the dichotomy between the sanctioned and the unsanctioned and that of folk and fine art, through satire and an ironic interpretation of class and nobility. There is testimony in her composition of Eastern culture, Arab culture, early colonial federalism and violence against women. Al-soqi lives and works in New York City.
On 24 January, a video interview by the Artrooms organizers with Al-soqi will be released on the Internet.
(text adapted from the artist's press materials)
---
INFORMATION
Artrooms 2016
Melia White House
Albany Street, Regents Park
London NW1 3UP United Kingdom
+44 (0) 7947 653530
Hours:
Saturday-Sunday, Noon-7PM
Monday, 10AM-1:30PM
Image:
Uldoz
by Inas Al-soqi
10″x8″
hand-made collage
2015
Image courtesy of the artist.