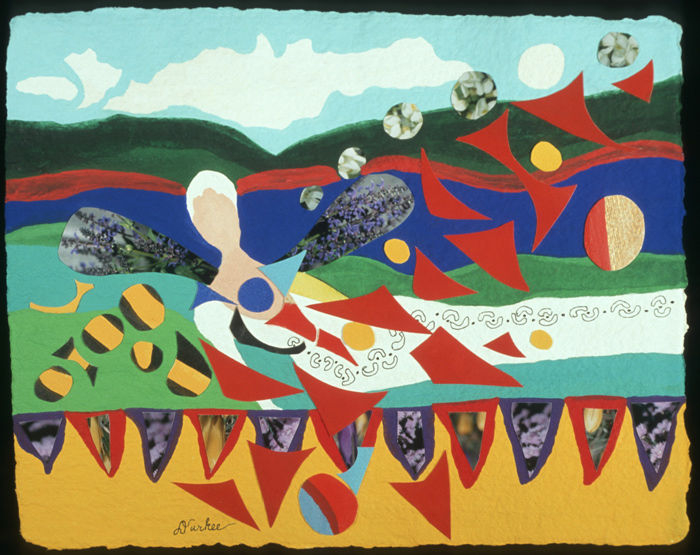 1-31 March 2014
The US state of Vermont features art at some of the welcome centers near the state's borders. In March, the Bennington Welcome Center in southwestern Vermont presents a solo show of collages and paintings by Vermont artist Linda Durkee.
Linda Durkee's work combines bright colours with dynamic shapes to capture landscapes and mindscapes.
She says, "[My] collages are created using hand-made paper from France. One of the distinctions of my work is that the pieces in my collages are original. My process is to use cutouts from paper I have painted and photographs I have taken. I attach them using archival glue and paint on and around them, adding more pieces as the collage emerges. My materials include gouache, oil pastel, ink, and photographic paper. For me, the work is finished when it achieves a whole or an integration that the addition of another piece would upset."
Durkee studied privately in Washington, DC and continued making art while working as a journalist at The Bureau of National Affairs, Inc. in Washington DC. She served as a speechwriter at the US Environmental Protection Agency, and, in 1998-2000, led a global communications effort at the UN Environment Program in Geneva, Switzerland. Her BA is from Manhattanville College (Purchase, New York) and her MA is from Georgetown University (Washington, DC). From 2004 to 2006, Durkee was president of the Southern Vermont Branch of the National League of American Pen Women, a group devoted to professional women in arts, letters, and music. She holds membership both as an artist and a writer.
A painter since 1980, Linda returned to her native Vermont in 2001 to be near her family and to create art and write full time.
(adapted from the artist's press materials)
---
INFORMATION
Bennington Welcome Center
100 Vermont Route 279
Bennington, Vermont 05201 USA
(802) 447-2456
Hours: Sunday-Saturday, 7AM-9PM
Image:
Liftoff
by Linda Durkee
collage
9″x13″
2010
Image courtesy of the artist