COLLAGE ON VIEW
John A. Dixon: Litter-ally Kentucky
at the Woodford County Library in Versailles, Kentucky, USA
5 October-30 November 2023
"Litter-ally Kentucky: Collage en plein air" by John Andrew Dixon is an exhibition of sixteen landscapes inspired by locations in a predominantly rural part of the Bluegrass State.
Dixon works with discarded paper and packaging, ruined books, scrap wallpaper, and even used teabags. He reinvigorates them with new purpose as representational art, which typically has not been associated with the medium of collage. Without pigments, he creates the semblance of traditional painting. Only when viewed up close does one see that the appearance of light, shadow, and texture is achieved with torn layers and printed text.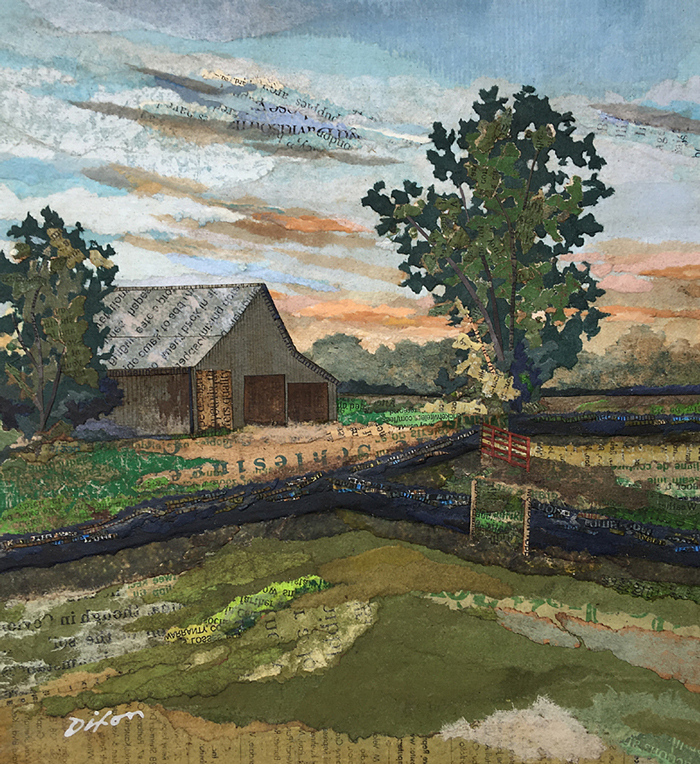 In this recent body of work, the compositions are infused with fragments of refuse that Dixon found accumulated along local streets and roadways. The concept of using collage art to bring awareness to the ongoing problem of littering was the theme of his application for a grant during the aftermath of lockdowns. He received a Kentucky Artist Rescue grant from the Kentucky Arts Council with federal funding from the National Endowment for the Arts.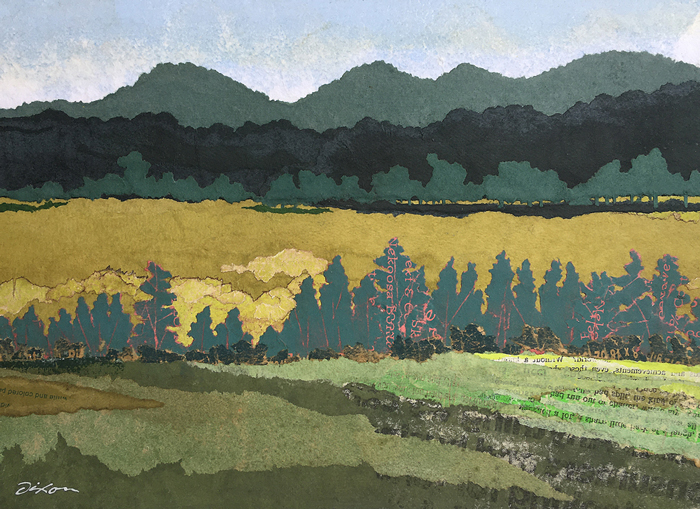 Dixon has exhibited contemporary collage artworks since 2006, and has been accepted into the Kentucky Crafted program as a mixed media artist. His affection for the plein air tradition led him to attempt "painting in papers" outside. He soon found it necessary to develop a mobile kit that allows ready access to his ingredients and protects them from even a mild breeze. He surrounds the edge of his working surface with clips to help control the process and then takes the collage impression indoors for finishing touches.
(text adapted from material provided by the artist)
---
INFORMATION
Woodford County Library
115 North Main Street
Versailles, Kentucky 40383 USA
(859) 873-5191
Hours:
Monday-Thursday, 9AM-8PM
Friday, 9AM-6PM
Saturday, 9AM-5PM
Sunday, 1-5PM