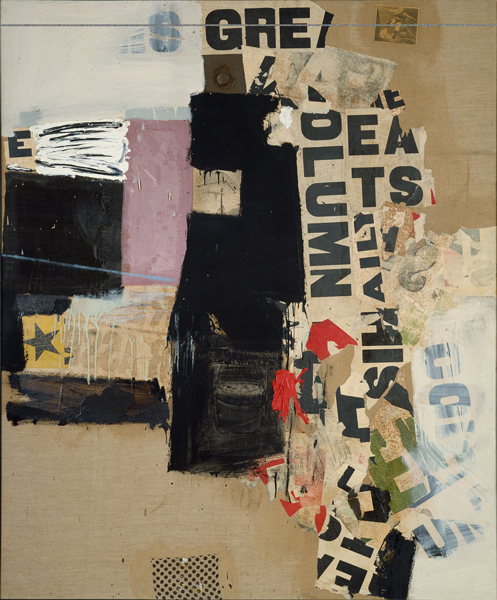 18 April-8 September 2013
"Over, Under, Next: Experiments in Mixed Media, 1913–Present" is an exhibition of approximately 100 works drawn largely from the Hirshhorn Museum and Sculpture Garden's collection.
"Over, Under, Next" surveys an era in which the definition and scope of art were continually expanded through the avant-garde's embrace of "non-art" materials. Artists from virtually every major movement of the past century—from Cubism, Dada and Surrealism through Abstract Expressionism, Pop and Post-Modernism—participated in the revolution. The exhibition tracks the development of the elements of mixed media, from the wood grain-printed paper of Georges Braque to the beaded Easter baskets of Nick Cave. The roster of unorthodox and incongruous materials includes butterfly wings, glass shards, crumpled automotive metal, jigsaw puzzle pieces, clothing, furniture and coloured sand.
Artworks and decorative items incorporating glued paper or found objects predate modernism, but the birth of collage as a medium in which remnants of the everyday are often jarringly juxtaposed with products of the artist's hand is credited to Braque. In 1912, having worked for several years alongside Pablo Picasso in the development of Analytic Cubism, Braque began to incorporate swatches of printed paper and oil cloth into his pictures. His Aria de Bach (1913), on loan from the National Gallery of Art, was made the year after he created the first papier collé (literally, "pasted paper").
Work on display includes photomonage by Hannah Höch; assemblage by André Masson, Man Ray, and Joseph Cornell; collage by abstract expressionists John Chamberlain, Willem de Kooning, and Franz Kline.
Bridging the divide between painting and sculpture, and between Abstract Expressionism and Pop, are the "Combines" of Robert Rauschenberg. Incorporating two- and three-dimensional elements—torn posters, newspaper clippings, a metal cap, the rear of a pair of pants—many of which the artist collected on the streets of his Lower Manhattan neighborhood, Dam (1966) invites viewers to make unexpected connections between word and image, art and everyday life.
Also included are assemblages by Donald Judd and Eva Hesse and filmed collage by Stan Brakhage and Bruce Conner. Romare Bearden and Lois Maillou Jones used "the clamorous energy of collage" to convey the political tenor of their times. More recently, Colombian artist Doris Salcedo repurposed used furniture as a way to respond to the wave of abduction, torture, and mass murder in her country.
Damien Hirst (Asthmatic Escaped II (1992)) and Ann Hamilton (palimpsest (1989)) are two installation artists included in the show.
By expanding the range of materials available for their work, artists using techniques of collage, assemblage and montage have enriched the language of art and extended its potential to comment upon life.
"Over, Under, Next" is organized by associate curator Evelyn Hankins.
(adapted from the museum's press materials)
---
INFORMATION
Hirshhorn Museum & Sculpture Garden
Independence Avenue & 7th Street SW
Washington, DC 20013 USA
(202) 633-1000
Hours:
Museum: 10AM-5:30PM
Plaza: 7:30AM-5:30PM
Garden: 7:30AM-Dusk
Open every day except 25 December.
Image:
Dam
by Robert Rauschenberg
oil paint, photomechanical reproductions, cloth, and metal on canvas
1959
© Estate of Robert Rauschenberg/Licensed by VAGA, New York, NY. From the Hirshhorn's collection