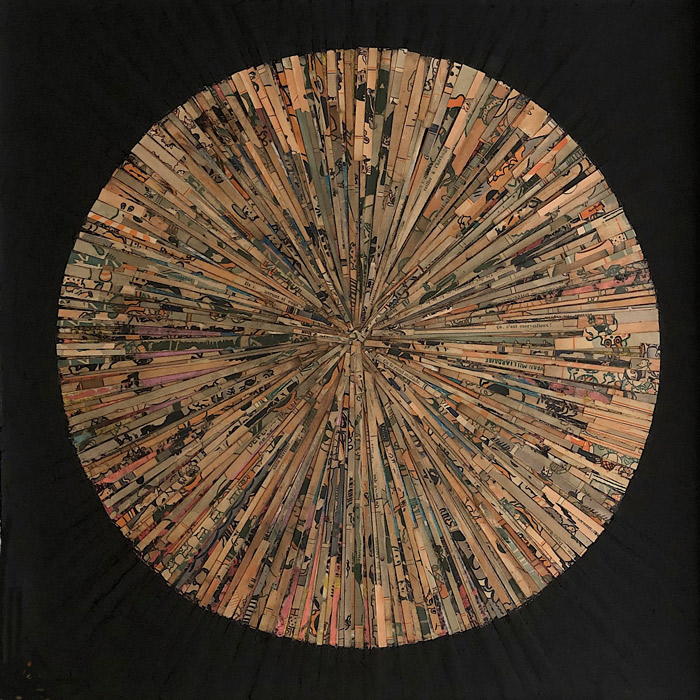 COLLAGE ON VIEW
Matthew Rose: Paper Chase
at Belle Beau in Arles, France
14 May-14 June 2022
"Paper Chase" is an exhibition of more than a dozen collage works by the American artist Matthew Rose. The pieces, each meticulously cut by hand, detail both abstract and narrative takes on what might be the artist's most spiritual exhibition to date. Using forms such as circles and embedding a ray-like design, Rose produces a kind of koan, a paradoxical statement or question used as a meditation discipline. In his piece, For Example (2021), the artist produces a wheel of cut paper taken from vintage French cartoons and advertisements. The colors are soft and their text fragments still legible. The wheel sits upon a black ground and is embedded in a square box.
Matthew Rose was born in New York and he studied Semiotics and Linguistics at Brown University in Providence, Rhode Island. The artist spent decades writing about advertising and art criticism in New York. He moved to Paris in 1992 where he maintains a studio on the Left Bank.
"Paper Chase" is a different attempt to code and decode the artist's own psyche. Paper is one of the most common elements of our world today. But the artist uses it as evidence of the real world and sees these works as a form of realism, belying their abstract presence. They are analogue in all their odd and beautiful glory. Looking closely at the works, one can detect other real world evidence–the tiny bits of dust, hair, pen marks–that end up trapped in the artist's designs.
(text adapted from the gallery's press materials)
---
INFORMATION
Belle Beau
14 Rue de Grille
13200 Arles, France
+33 (0) 6 89 33 63 16
Hours:
Tuesday, 9AM-6PM
Wednesday-Saturday, 3-6PM